Wisps of cloud curl slowly through the trees. Flecks of moisture from the last shower cling to the lush vegetation on the hillsides. You probably don't think of pine forests in Vietnam, but at 4,920 feet that's what you'll find around the town of Dalat. Until 1954 it was the most famous French hill station and the cool-weather escape of the last Emperor, Bao Dai (you can tour his summer palace).
The colonists and the royal court are gone, but Dalat still has something of the feel of a small-town mountain resort. A mini-Eiffel Tower overlooks a lake with pedal boats for hire. French villas—some with Alpine-style roofs—are tucked around town, and the Dalat Palace Hotel has been restored to its 1920s glory complete with manicured lawns and French fine dining.
Orchids, roses, coffee, and vegetables grow in the valleys around. You'll find high-end resorts and world-class golf, but the beating heart of the town is the Central Market where hawkers wearing conical non la hats sit beside tubs of live fish and crabs, or in front of tables loaded with pungent durian fruit, shoes, and clothing.
An average temperature year-round of 57 F makes Dalat a tempting option for some expats, but for most, it's a place to spend a bit of time exploring the hill villages and escaping the humidity and heat of the lowlands. If you choose to live here, then consider a place on the outskirts of town, which is a lot prettier than the center and makes for better views of the mountains.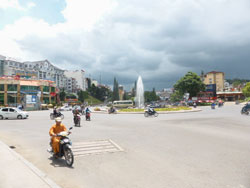 You can rent an apartment in Dalat for around $300, eat out for less than a buck…and get a good hour-long massage for $5. It's not easy to find English-language real estate agents and service providers. One neat trick is to head to the university and make friends with some students. That's what I did and my new-found friend Vye practiced her English while giving me local insight.
A good place to hunt out some expats is the V Café. Tucked onto Bùi Thi Xuân street, a few minutes' walk from the lake, this blues bar serves up nightly live music to a colorful crowd. It's owned by expat Michael Sterling and it's a good place to try the local wine. Vang Dalat won't win any prizes, but this mix of cardinal grapes and mulberries is a staple way to wash down a meal here.
In Dalat you're three hours' drive from the coastal city of Nha Trang—Vietnam's most popular beach resort. Dividing your time between the two places is one option—enjoying the tropical beaches of the South China Sea as well as the mountains.
Get Your Free Vietnam Report Here:
Learn more about Vietnam and other countries in our daily postcard e-letter. Simply provide your email below and we'll send you a Free Report – Vietnam: Experience the Magic of the Orient.
This special guide covers real estate, retirement and more in Vietnam and is yours free when you sign up for our postcards below.
Get Your Free Report Here