It's been called the Sacred Valley, the Valley of Longevity, and the Valley of Eternal Youth. Tucked into the heart of Ecuador's southern Andes, the little town of Vilcabamba has earned those monikers, and it's easy to see why. Steep rounded mountains rise from all directions, giving the town a feel of seclusion and protection. The rich black soil turns out hundreds of varieties of edible plants. And warm weather year-round makes the place a permanent paradise.
In fact, when the Ecuadorian tourism bureau decided to market the country as "The Land of Eternal Spring," I'm convinced it had Vilcabamba in mind. With temperature highs averaging between 74 F and 79 F and lows never dropping below the mid-50s F, it's tough for me to imagine a more ideal climate.
Vilcabamba has become a hotspot for expats looking to create a different kind of life for themselves—a life that allows them the freedom to pursue whatever interests they hold.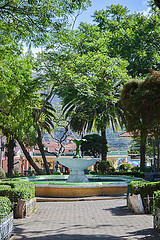 And now is a good time to buy in Vilcabamba. Several years ago Vilcabamba's popularity exploded, as did its expat population. Property prices rose accordingly. But as the excitement over Vilcabamba began to level out, so did the real estate market. Since 2013 the prices of properties in the area have been tapering off.
Vilcabamba is a great prospect for anyone who loves the country. The properties are diverse enough so that there is something for everyone. There are farms, upscale homes in gated communities, and houses inspired by the green movement, with a low environmental impact. There is even a little domed house reminiscent of Tolkien's hobbit holes just a few minutes from town.
One Vilcabamba expat has compared the town to Ojai, California. The springtime temperatures of Ojai would be on a par with those of Vilcabamba, but even more similarities are found in the lifestyle. Ojai is known for its health-conscious, spiritually-minded, artistic atmosphere. Vilcabamba is much the same, though on a smaller scale. Organic food markets, health food co-ops, and many alternative health practitioners are found here. The tranquility and vistas also attract artistic types and creative thinkers from around the globe.
But one prime difference between Vilcabamba and Southern California is the cost of living. In Vilcabamba you can pick up an entire grocery bag stuffed full of locally grown fruits and vegetables for less than $5. You won't need heating or air conditioning, so your electric bill should stay under $20 a month. And public transportation is readily available and inexpensive, so there's no need to spend hundreds of dollars a month on your own vehicle.
As for properties, similar places in the Ojai Valley would run at least double, if not triple, the cost.
Rentals in Vilcabamba run the gamut in pricing and quality. Expat Coleen Thom and her husband rent a cozy two-bedroom house right in town for $225 a month, with utilities included. She says that they found very few rentals in the area costing more than $500 or $600.
Get Your Free Ecuador Report Here:
Learn more about Ecuador and other countries in our daily postcard e-letter.
Simply enter your email address below and we'll send you a FREE REPORT – Ecuador: Live Like Royalty on Your Social Security.
This special guide covers real estate, retirement and more in Ecuador and is yours free when you sign up for our postcards below.
Get Your Free Report Here