I've been doing a bit of travel around Ecuador recently, and in December I stumbled onto my new favorite city.
Restored grand colonial buildings sport fresh bright paint. Tumbling rivers run right through the heart of the city. A growing international expat community and ridiculously friendly locals make fitting in easy and dining options range from traditional local dishes to Chinese, Mexican, Arabic, Japanese, Italian, and even good old Texan fare.
By now, you might be guessing that the city I'm describing is expat-favorite Cuenca or the capital of Quito. Those would be fair guesses…but they're wrong. The city that swept me off my feet is Loja—Cuenca's little sister to the south.
The two cities share many similarities, like the rivers and the friendly people. But Loja has a few differences that in my mind are big advantages.
First, at 1,700 feet lower in elevation Loja is 10 F warmer on average with daily highs of about 72 F. It's also a bit drier on average than Cuenca.
Secondly, Loja has a population of under 200,000, which makes it manageable for someone like me who gets overwhelmed by larger metro areas. It keeps the prices down, too. Sure, Loja has a lot in common with the rest of Ecuador, as its public transportation and food are inexpensive. But the housing is especially low-priced. When I inquired about the cost of a spacious apartment in the coveted downtown area, I was told by a local that it "was very expensive—maybe $300 per month." I had to keep from laughing; Loja natives' definition of "expensive" is clearly much different than ours.
But what really got me about Loja was that for its size it exhibits a lot of character. Stepping into the historic center of town is like stepping into a theme park or a movie set. The sparkling clean avenues are lined with Victorian lamp posts and scrolled metal street signs. And grandiose churches of Gothic and Romanesque architecture stand opposite the bright pastels of colonial-style office buildings. It was almost too surreal to be realistic.
Over at the Plaza de la Independencia, it's like being in the middle of a 19th-century Spanish courtyard. The mission-style San Sebastian Church and attached convent front the plaza along with a covered bandstand used for free concerts. The surrounding three sides are wrapped in old wooden-pillared buildings which hold small businesses and restaurants. And the center of the plaza itself is home to an impressive clock tower and tiled fountain.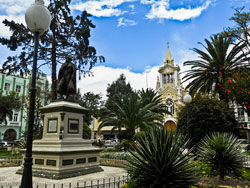 And at the Puerta de la Ciudad, you'll find what looks like medieval Europe. A castle gate replica there comes complete with turrets and a spiked gate.
Instead, I was in an Ecuadorian city rich with culture, art, and plentiful music. Loja is the country's go-to place for quality musicians. That explains the sheet metal musical notes affixed to a crosswalk and the several music schools within the city. The Municipal Orchestra often has free or low-charge concerts open to the public. Since, most locals prefer balcony seats, front row seating is often available.
Loja is an up-and-coming city, one that is increasingly metropolitan thanks to the many Lojana diaspora who are returning from time spent abroad.
If you're looking for an affordable, friendly, cultured city, you won't go far wrong in Loja.
Related Articles