The drive from my hometown of David west to the town of Volcan in Chiriquí Province is one of my favorite scenic routes in all of Panama. I pass cattle pastures, dairy farms, horse stables, and chicken farms framed by rolling green hills. At certain vantage points I look out over the landscape and can see all the way to the Pacific coast. Colorful flowers and a surprising variety of trees and foliage decorate the roadway as I wind my way up the slope of the mountain.
Volcan is situated on the western-facing slope of Panama's highest peak, Baru Volcano. The summit of the dormant volcano reaches 11,400 feet, and Volcan is at an elevation of about 4,600 feet. This means a very comfortable climate all year round. Daytime temperatures range from 75 F to 85 F, while at night it ranges from 60 F to 70 F, so you don't need heating or air conditioning here.
Volcan has a population of around 13,000 and a growing expat community. It's an excellent place to sample rural life in the highlands of western Panama. The town is a hub for the surrounding communities…it's not unusual to see farmers driving round town in their pickups loaded with fresh produce straight from the farm.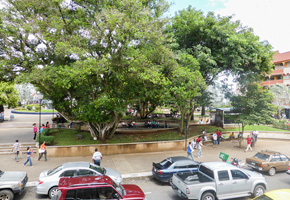 The town has all the amenities you could want. In town, the main road passes through the commercial center, with grocery and hardware stores, pharmacies, department and clothing stores, banks, and gas stations. You'll find a post office, health center, schools, and a large artisan's market and produce market. There are several options for accommodation, with hotels and B&Bs both in town and along the highway outside of town, and a nice selection of restaurants offering local dishes, pizza, Mexican fare, and burgers.
One of the many attractions of Volcan is the affordable cost of living. You can do most of your shopping right in town, where you'll find groceries, produce and household items to be inexpensive. A couple can expect to spend about $400 a month on groceries and around $120 for utilities, including cable TV and internet.
Rent for a two-bedroom furnished home will run around $500 a month. Add in another $100 a month for entertainment and eating out, another $100 a month for occasional trips to David for doctor visits and other necessities, and your monthly expenses still come in at well under $1,300.
My very favorite thing about Volcan, though, is the lifestyle. You won't find fast-food joints, traffic jams, or mega malls. When I visit I always stop at Mana Restaurant in Volcan Lodge B&B, just a couple blocks north of the main road. The owners Jorge and Vicky serve up hearty sandwiches and tasty salads, or an American-style breakfast. They host a market on Friday mornings and it's a great place to connect with other expats.
The other favorite locale is Deep Forest Tavern, which usually has live music on the weekends in an English-pub setting. The varied menu includes steaks, wings, Italian dishes, and pizza at affordable prices. It's a popular spot for special events, parties, and to meet up with friends.
No one is in a rush in Volcan, and folks take time to chat when they meet in town. Men on horseback are common and drivers wave or stop to let pedestrians pass. I marvel at the clarity of the blue sky and the purity of the white clouds in this unspoiled environment.
You can be outdoors all year round for your favorite activities, and enjoy fresh foods produced locally. For expats and retirees who settle in Volcan low stress and healthy living in a natural setting are the norm.
Get Your Free Panama Report Here:
Learn more about Panama and other countries in our daily postcard e-letter. Simply enter your email address below and we'll send you a FREE REPORT — Panama: First World Convenience at Third World Prices.
This special guide covers insider advice on real estate, retirement and more in Panama. It's yours free when you sign up for our IL postcards below.
Get Your Free Report Here