Sipping my locally grown coffee on the sun-drenched balcony of my house in Chiang Mai, Thailand, I sometimes have to pinch myself. It's a far cry from the numbing cold myself and my wife Nancy endured during our many winters in the interior of British Columbia. Chopping firewood, shoveling snow, and piling on four layers of clothing…I don't miss any of it.
Today our life is about enjoying all that Thailand has to offer. Our favorite pastime is heading out for the day on our scooter to explore the beautiful countryside that surrounds the city. Small roads wind their way through thick foliage, open meadows, and hill tribe villages with panoramic views at higher altitudes. There are always interesting little coffee shops to find along the way and new adventures around every corner.
We also love exploring the dozens of narrow sois (alleys) that wind their way through Chiang Mai's Old City, surrounded by a picturesque moat and remnants of the historic wall that once guarded this ancient capital from the raiding Mongols, relics of a past time when motorized vehicles did not exist. And poking around some of the city's 300 or so temples…
Eight years ago I accepted a teaching job in China. Working overseas for the last few years before I retired seemed like it would be a nice change and a great way to see this part of the world.
We fell in love with everything about Asia…the people, the food, the chaos, and the culture. When it finally came time to retire a couple of years ago, we had a choice: Move back to Canada or stay in Southeast Asia. It was a no-brainer.
During our many vacation trips around Southeast Asia, we had visited Thailand several times and stopped in Chiang Mai more than once. The low cost of living, beautiful countryside, fascinating culture, and friendly accepting residents really appealed to us.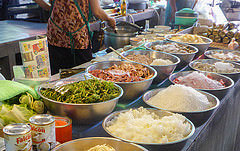 Here in Chiang Mai, we enjoy all the amenities of a large, modern city for small town prices. We pay less than $500 per month for our 1,000-square-foot condo in the city center. Walking five minutes in either direction from our front door will take us to two, large, modern malls. There we can watch all the latest blockbusters in a modern eight-screen cinema for $3…the popcorn is actually more expensive than the movies.
Although we do a lot of our own cooking, it's almost cheaper to eat out. Local Thai dishes can be picked up from street vendors for a couple of dollars for a fresh bag of sticky rice and a few skewers of barbecued meat. Even dining at one of the hundreds of international restaurants here is good value for your money. We rarely pay more than $25 for a decent meal, including drinks.
Chiang Mai is famous for its markets. With the Sunday Market, the famous Night Bazaar, and a host of fresh fruit and veggie markets, it is easy to shop till you drop for almost anything without making too big a dent in your wallet. I picked up three, Thai-style shirts earlier this week for less than $10.
Chiang Mai is a fun place to live. Art galleries, live theater, weekly markets, great music shows…it's all here. Add in the numerous holidays and festivals that take place almost every month and we feel like we are on holiday year round.
Get Your Free Southeast Asia Report Here:
Learn more about Thailand and other countries in our daily postcard e-letter.
Simply enter your email address below to sign up for IL's free daily postcards and we'll also send you a Free Asia Report – The Best Islands, Beaches and Cities –
South East Asia's Top 6 Retirement & Vacation Destinations
Get Your Free Report Here