"The main attraction is the beach. People don't come here to do stuff, they come here to relax," says Canadian Robert Stanley, owner of Bobby's Bar & Restaurant, a popular expat gathering place at the south end of the Thai beach town of Hua Hin.
With a population of around 90,000 people, Hua Hin (pronounced "Wha Hin") is around a three-hours' drive south of Bangkok on the Gulf of Thailand's west coast.
The country's royal beach resort for almost 100 years, Hua Hin is also home to a community of between 3,000 and 5,000 expats. Robert is just one, and his thoughts were echoed around town by many other expats I chatted with during my recent trip to this cosmopolitan beachside community.
The Thai royal family may be regular visitors, but you don't need a royal income to enjoy life here. Many expats I met were living on $2,000 a month or less. That covers the rent of a small house or condo probably a 10- or 15-minute walk from the beach, and have enough left over to regularly enjoy the restaurants and bars around town.
And this is something you will want to do. Hua Hin is home to some truly excellent local and international cuisine (you can gorge yourself for less than $20), as well as some of the best golfing to be found in Thailand, with 11 courses in the area.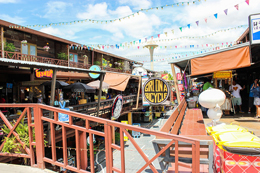 Petchkasem Road runs through the center of Hua Hin parallel to the coastline. It's bordered on either side all the way along by a huge selection of stores, bars, restaurants, laundry shops, gift shops, shopping malls, and temples. Hua Hin is a town that can easily be walked from one end to the other, if you have the time.
The white-sand shoreline of Hua Hin Beach extends some four miles south to Khao Takiab, a small headland visible in the distance, and it was deserted when I visited during the week. When hunger strikes, you can eat at one of the many beachside restaurants or pick up some inexpensive Thai dishes from local vendors. I paid about $6 for a dish of som tum (green papaya salad), pork soup, and a bottle of beer.
Only a few years ago, the choices for shopping in Hua Hin were limited. Today you can find almost anything you are looking for. Located near the center of town is Market Village, an outdoor plaza and three levels of stores, restaurants, a food court, entertainment outlets, and a multi-screen major Cineplex with a good selection of English and Thai movies.
Healthcare in the area is excellent, as Hua Hin now has three main hospitals offering a range of services and high-quality care, as well as a plethora of smaller clinics and pharmacies.
Heading inland a few blocks, you'll find more Thai-style shops and restaurants. This is where you will run across houses and apartments for less than $500 a month, as well as inexpensive local bars and eateries.
Although the city has its perks, many expats choose to live in the rural hinterland, where it's even easier to find less-expensive accommodation. Luxurious properties can be rented for a song (less than $700 a month for a three-bedroom home with a swimming pool, only a mile from the beach). Many have chosen to rent or buy in and around the small fishing village of Khao Takiab, where a two-bedroom, 872-square-foot condo with a shared pool can be found for $740 a month…and is only a three-minute walk to Khao Takiab beach.
There was one place that almost convinced me to move. For $653 a month, I could have rented a three-bedroom house with spacious gardens and its own private pool. Less than a mile from the beach, with surround-sound TV, a wooden Thai-style sala (pavilion), totally furnished and outfitted with cutlery and crockery, gardening service (once a week), pool maintenance (twice a week), and weekly maid cleaning service all included. What more could you want?
Get Your Free South East Asia Report Now
Learn more about Thailand and other countries in our daily postcard e-letter.
Simply enter your email address below to sign up for IL's free daily postcards and we'll also send you a Free Asia Report – The Best Islands, Beaches and Cities – South East Asia's Top 6 Retirement & Vacation Destinations.

Get Your Free Report Here