Three years ago, my husband Michael and I were both on the corporate treadmill—Michael as a consulting engineer and me running my own business.
We were working long hours just to maintain our lifestyles, leaving us overworked and miserable.
When a dear friend died, we asked ourselves, "If we had six months to live would we continue doing what we're doing?" The answer was a resounding no. We had to find the "off" switch for the treadmill.
So, in 2012, with cries of "you're too young to retire" still ringing in our ears, we flew away from Vancouver, Canada, in search of a new life.
Our goal back then was twofold: to find our perfect retirement location and to accomplish our lifetime goal of visiting 100 countries before we kicked the bucket. We're well on our way to achieving both of those aims.
Thirty months and 30 countries later, we often have to pinch ourselves at how our lives have changed.
These days we wake with the sun (instead of the cold of Vancouver winters), wander outside, and admire our view. Some weeks, that view is of rolling green hills and valleys, olive groves, or vineyards; other times, it's dense tropical jungle bejeweled with darting hummingbirds.
We actually have the time now to enjoy a leisurely breakfast while we discuss our plans for the day: a trip to the beach, the local market, lounging by the pool, or whatever else we'd like to do.
Since there are no more morning commutes under dreary skies, no more 50- or 60-plus-hour work weeks, with weekends spent catching up on chores before collapsing exhausted into bed, we can follow our interests and our own schedule.
You may be thinking that we're among the lucky few…that we were rich enough to trade in busy careers for a life of easy luxury. That's not the case. We weren't exactly wealthy when we decided to make this change. We were 44 and 53 and a long way from any pensions. When we first thought about exploring the world, we figured that it was a foolish whim—a crazy idea.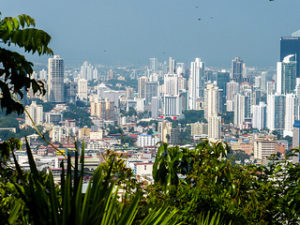 That was until we discovered a strategy that's allowed us to explore Europe, island-hop the Caribbean, and test-drive great retirement destinations such as Panama, all without having to skimp on the luxuries.
It's allowed us to explore every country on our wish list in style on a sensible budget—no hostels for us. We've stayed in a French, ivy-covered mill house, complete with its silent mossy wheel and not so silent ducks, Spanish casitas, and French vineyards. We've even slept on an antique bedstead between Egyptian cotton sheets in a turreted French chateau.
We started our adventure in Europe, driving through tiny villages, bustling market towns, and deserted mountain passes. Then we headed to Central America and explored Belize, Guatemala, Honduras, Costa Rica, and Panama.
In San José, Costa Rica—in an upscale villa with a live-in maid—we realized we were hooked on seeing the world. And, to our delight, we also discovered that adventure, which saw us living and exploring the globe in style, cost us less than our monthly living costs back home! In Europe, our expenses, including a car, averaged $3,400 a month. Traveling, exploring, and playing in Central America cost even less—half of what we spent when we were working in Canada.
We've also island hopped in the Caribbean, staying in luxury villas in the Grenadines and overlooking Marigot Bay, St. Lucia. Impossible as it seems we swapped work and gray skies for sunshine, beach walks, and ocean breezes for only $2,000 a month.
Overall, we've saved almost $60,000 while we've traveled…and have been able to cross a lot of "bucket list" countries off our list. We've still 70 more countries to go, though…
Get Your Free Report on the World's Top 10 Retirement Havens
Learn more about the best places in the world to retire in IL's daily postcard e-letter.
Simply enter your email address below to sign up for our free daily postcards and we'll also send you a FREE report on The World's Top Ten Retirement Havens.
Get Your Free Report Here