It's ideal weather in Belize right now for lounging in a beach hammock, under a palm tree, as the emerald green and turquoise shaded waves gently lap up on the warm, golden sand beach… What could be better than sipping a frosty refreshment while gazing out at a tranquil seascape?
And, with 17 miles of coastline, there are many walkable beaches to explore.
This long, narrow peninsula is full of surprises. Driving south—on the only main road—you'll see waves caressing the golden sand beach to the east; a tranquil lagoon view is to the west with a backdrop of the mystical Maya mountains on the distant mainland.
Given how narrow the peninsula, it feels more like an island—no matter where you are, you'll be within easy reach of a beach or the lagoon.
The mornings are a perfect time to jump into a kayak, paddle around, and wander. There are few motorboats buzzing close to the peninsula's coast, which is a blessed relief if you're seeking a relaxing day at the beach.
You'll find a smattering of villages on the south side, but not too many people at all. Only 3,000 or so residents live on the entire peninsula, compared to the 15,000 plus on the tourist haven of Ambergris Caye.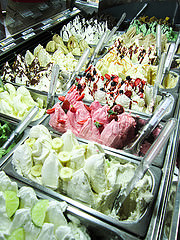 Still, Placencia Village and Seine Bight, in the southern third of the peninsula, buzz with activity at times. Placencia Village is fun, funky, and filled with colorful street signs, bistros, bars, art galleries, and gift shops. This is where you'll find the action.
Food To Dream Of
The food is great here, too. I've been dreaming of returning to Tutti Frutti Gelateria—a scoop of their pistachio or stracciatella gelato would be divine ($2.10 per scoop)…and dropping in at Above Grounds for some of Keith's organic coffee and interesting chit chat ($2.50 for a cappuccino)…and Rick's Cafe for pizza, pasta, or a salad…then the Barefoot Bar for a Caribbean blue margarita ($6)…
And, of course, I'd need to "reserve" a spot at the Maya Beach Bistro to indulge in a scrumptious dinner paired with a glass or two of fine wine. On the higher end of the restaurants here, a gourmet lobster dinner at the Maya Beach Bistro is priced at $28. But for only $6 you can have a full Belizean meal at Wendy's, a Belizean restaurant in Placencia Village. Try the traditional stewed chicken, beans and rice, or pork chops and potatoes.
There are so many options I've yet to explore: Placencia is blessed with deep waters that allow for sailing boats, catamarans, motorboats, and yachts to navigate and dock or anchor offshore. Boat tours regularly leave from the docks and marinas for diving, fishing, or pleasure trips to nearby cayes (pronounced "keys"), such as Laughing Bird Caye—only 11 miles by sea from Placencia. And there are extended boat trips that head farther south. Some explore Guatemala's Rio Dulce river, with its spectacular 300-foot gorge. (We've added that to our personal bucket list.)
Condos From $750 A Month
There are few large tracts of land available on Placencia big enough for building sprawling high-density condominium complexes, so Placencia should remain a charming boutique resort destination for years to come.
If you're thinking of renting in Placencia, apartment or condo rentals start around $750 a month for a long-term rental.
Lying in a hammock by the beach…then dining on lobster and sipping a fine wine…Yes, it would be great to head back to Placencia soon…
Related Articles
Belize Visa and Residence Information
5 places to live in Belize and 2 to Avoid
Rent in Belize From $350 a Month