León is one of the oldest cities in Nicaragua and second-largest city in the country after the capital of Managua. It has a warm climate with average highs in the high 80s F and average lows in the 70s F and also has terrific colonial architecture to recommend it.
León is great place to live if you want to be close to the beaches…you can enjoy all the conveniences of a big city, amid beautiful surroundings, and still be only 11 miles from Nicaragua's stunning ocean beaches.
The city is situated on the Río Chiquito (Chiquito River), some 50 miles northwest of Managua. It has long been the intellectual center of Nicaragua, with no fewer than five universities. León has more colonial churches and cathedrals per capita than any other place in Nicaragua. It also was home to several of Nicaragua's famous poets, including Ruben Dario, Alfonso Cortes, and Salomon de la Selva.
A couple should be able to live well in León on $1,200 a month. Buying a home or restoring a colonial reduces the cost of living greatly, and there are many of these property options available. There's no shortage of rentals, either.
Although some expats in León do have vehicles, you don't really need a car unless you live outside town. And motorcycles, which are a cheaper alternative, are readily available. Gas has dropped below $4 a gallon and most taxis within the city charge 75 cents. There are buses everywhere for travel to the beaches or to other parts of Nicaragua. The road to Managua was recently resurfaced, which shortens that trip.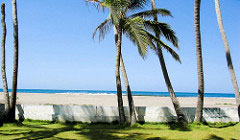 León now has the modern supermarkets La Colonia and La Union, in addition to the usual Pali small supermarkets, fresh markets, and street vendors. Several chain stores, which are in most cities of any size, sell TVs, electronics, furniture, clothing, and the like, and you'll find many niche shops owned by locals. You may need to go to Managua for specialty or high-end items, but this is becoming less so due to more retail stores in León.
León is home to some of the best food in Nicaragua. Being a university town, it offers plenty of pizza places, as well as a diverse selection of restaurants, including Indian, Spanish, Japanese, Italian, Chinese, and, of course, Nicaraguan fare. Nicaraguan food ranges from nacatamales (steamed corn cakes with meat and vegetables) to gallo pinto (a delicious mix of rice and beans, plus sweet pepper and herbs) to steaks, though the chicken is the best I've had anywhere in the world. The night life is vibrant, too.
For medical care, León has the largest hospital in northern Nicaragua, which was expanded and remodeled three years ago. There are many good doctors, since León has one of the top medical schools in the country and provides many of the doctors for the Managua hospitals. A doctor's visit costs $11 to $18, and some doctors speak English.
León has a rich cultural heritage, with many local events for you to enjoy throughout the year. Two major events are La Purísima and La Gritería. The Purísima is a nine-day celebration of the Immaculate Conception and takes place November 28 to December 6. La Gritería (the Shouting) is a celebration that began in 1857 and is held on December 7, the final day of La Purísima. That night children and adults go home yelling out, "Quién causa tanta alegría?" (who causes so much joy?), and answering, "La concepción de María."
But no matter what the time of year, there's plenty of joy to be found in León. You could find some there, too.
Get Your Free Nicaragua Report Here:
Learn more about Nicaragua and other countries in our daily postcard e-letter. Simply enter your email address below and we'll send you a FREE REPORT –  Start a New Life on the Beach in Nicaragua.
This special guide covers real estate, retirement and more in Nicaragua and is yours free when you sign up for our IL postcards below.
Get Your Free Report Here