Cost of living is one of the major concerns for many retirees considering a move overseas. It's one of the reasons my husband and I chose to settle in David, the capital of Chiriquí Province in western Panama. Life here is not only pleasant, relaxed, and fun, but super affordable.
We average about $1,500 a month for our living expenses. Here is a typical monthly budget for myself and my husband: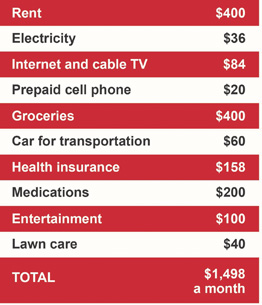 As you can see, we don't go without. We have everything we need and live comfortably. Of course, you can live here in Panama on as much or as little as you like…it'll just depend on your lifestyle and preferences.
If you rent, housing will be a big chunk of your monthly budget. Furnished apartments in and around David start at $400 a month, and furnished homes around $500. Larger homes with better finishes and amenities are also available. There's a rental in David right now, with three bedrooms and three bathrooms, granite counters, air conditioning, a fenced yard, and above-ground swimming pool available for $800 a month.
Utility costs represent big savings for many who move here from North America. For a start, you have no winter heating bills. If you live in a highland town like Volcan and Boquete, you won't need air conditioners, the cooling breezes will do that job for free. It's warmer in David, so you'll want air conditioning for at least part of the time. Electricity bills may run $100 to $200 a month although my husband and I manage with fans in our home, so ours is a little less.
Reliable, fast internet is widely available in Panama. There are several providers of internet, cable TV, and phone service here, offering a variety of products at competitive prices. I use a company called Cable Onda for my cable TV and internet. If you're just looking for internet you can get high-speed service here for about $30 a month.
I shop at four different stores here in David for our groceries and household goods, depending on what I need. I pay $1.87 for a dozen eggs; $6 to $8 for a pound of coffee beans; $2.20 for a pound of ground beef; $5 for a gallon of milk; around $3 a pound for chicken or pork; and $2 for a loaf of sandwich bread. Imported items cost more, naturally, so I stick to locally-produced brands.
For fresh produce, I shop at the small vendors located all over town. Tomatoes, onions, and potatoes run about 60 cents a pound. Bananas are three for 25 cents, Persian limes are four for $1, fresh mangoes are four for $1, and avocados (in season) are $1 each. My husband's favorite, pineapples, are available all year round for $1 or $1.25. For about $8 I buy a week's worth of produce for us.
For all our healthcare needs we go to Hospital Chiriquí—it's one of two private hospitals here in David, the other being Hospital Mae Lewis. Healthcare costs in Panama are a fraction of what they are up north. For example, a mammogram costs $30, most blood tests at the lab cost $5, and a doctor's visit runs from $20 to $60 for a specialist.
Just last month my husband had surgery to remove a cataract. The ophthalmologist gave us a package deal: $1,500 for everything. We paid at the time of his surgery (one of the strategies that keep costs low here), and with the pre-approval we got from our hospital insurance plan, they will reimburse 70%, so our final cost is $450 out-of-pocket.
The rest of our monthly budget then goes towards some fun and entertainment. David has two multi-cinemas where tickets cost about $2.20. It's just a 40-minute drive to Boquete, where I can attend a live play or concert at the community theater for $15.
If we want to eat out there are plenty of choices. We can go to a locally-owned eatery and have lunch for $3.50, or opt for one of the expat hangouts and enjoy a sandwich or burger for about $6. For special events David has a few upscale dining rooms where a chef-prepared meal with wine costs about $30 per person, or I can order a pizza delivered to my home, with extras and tip, for $20.
Get Your Free Panama Here:
Learn more about Panama and other countries in our daily postcard e-letter. Simply enter your email address below and we'll send you a FREE REPORT — Panama: First World Convenience at Third World Prices.
This special guide covers insider advice on real estate, retirement and more in Panama. It's yours free when you sign up for our IL postcards below.
Get Your Free Report Here