La vie française. Imagine relaxing in the garden of your own French home, a pretty stone cottage set among orchards, vineyards, and flowery meadows. The sun is shining, there's not a cloud in the sky. The only sound is the drone of honeybees and the blissful strains of one of Satie's Gymnopédies playing in the background. You've just returned from the market, and now you're savoring the thought of lunch. It's such a perfect day, you decide to dine picnic-style, spread out over an old oak table under a shady canopy of trees.
Freshly baked baguettes, a ripe Camembert cheese, a tangy ratatouille of tomatoes, peppers, and eggplant—and don't forget to add those deliciously plump black olives straight from the stallholder's barrel.
Glass of chilled Chablis in hand, you sit happily planning your next day's adventures. Decisions, decisions…it would be fun to go to that truffle festival in the little village perché in the next valley. How about a day trip to the seaside to sample the seafood in the restaurant your neighbors recommended? Or maybe now's the time to go to Paris for a couple of days to check out the new season's fashions. Then again, you might do nothing more strenuous than get out your newly acquired easel and brushes and meander down-stream to where the ducks are nesting beside the old mill. The light is incredibly clear, and you've always wanted to try your hand at watercolor painting…
This pleasant-sounding lifestyle can be more than just a daydream. La belle France seems to have more than its fair share of good things—not least of which are food, wine, and haute couture. Whether you're looking to retire to Europe, relocate, or simply plan an extended adventure, France should be at the top of your list of possibilities. It has all the ingredients that we at International Living look for: a good climate, unspoiled countryside, top-notch culture, excellent health care, colorful traditions and history, and, of course, the glitter and sophistication of Paris. It's not surprising that France is the world's favorite destination, receiving approximately 80 million foreign visitors each year.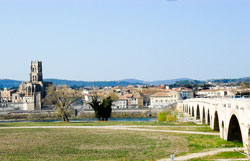 The trickiest thing will be deciding which region of France has the qualities you're looking for. For some, it's the wild, rocky shores of Celtic Brittany, steeped in old customs and traditions. Others cannot resist the allure of sun-drenched Provence, a beautiful region of hill towns and lavender fields, fringed by a turquoise sea and the shady palm trees of the Côte d'Azur. Then there's the Dordogne département in Aquitaine, a lush land of castles and quaint little villages that still seem to be sleeping their way through the Middle Ages. If you're mad for markets, you'll be in paradise here. The Dordogne has dozens, and it's renowned for its gastronomic specialties, such as foie gras, truffles, and other wild mushrooms.
Although I've long dreamt of owning a vacation home in France, I must admit that I find it impossible to decide which part appeals to me most. Is it Alsace with its gingerbread cottages, vineyards, and flower-bedecked villages? Or is it the drowsy Languedoc, the hauntingly beautiful south of songs and troubadours?
After every visit to France, I return with my head filled with new dreams and possibilities.
Free France Report:
Learn more about France and other countries in our daily postcard e-letter. Simply enter your email address below and we'll send you a FREE REPORT: A Taste of France: All the Ingredients for the Good Life.
This special guide covers real estate, retirement and more in France and is yours free when you sign up for our free daily IL postcards below.
Get Your Free Report Here