We have always loved to travel; my husband David and I. Annual holidays gave us the perfect excuse. We first explored the U.S. on epic road trips, then Mexico, Europe, and Southeast Asia. Each time we returned, it was back to the "real world" of too much work and not enough play.
Returning from our last holiday in 2003, I realized that I just wasn't ready for it to end. We had visited Thailand, Laos, and Cambodia on a whirlwind trip. It wasn't enough for me and it was during that flight home that I made a decision…I realized that I didn't want to work at my full-time job as a registered nurse until I was 65. I didn't want to wait to retire and hope that I would be healthy enough to travel and do all the things that I wanted to do before it was too late.
So right there and then, I set a goal to retire early. I was 49 years old at the time, and by the time I turned 51, my husband and I had changed our lives. We got ourselves out of debt and put our lives online as much as possible. All our banking, credit cards, and important correspondence are now accessible wherever we go and we use email and Skype to stay in touch with our friends and family.
But how did we pay for our early retirement? In our case, funds initially came from modest investments and savings. While overseas, we also discovered that we could earn money in our new home. This was something we learned after meeting so many other expats who were doing quite well for themselves in their newly adopted countries.
After meeting these inspiring expats who were living their dreams, I became a freelance writer and wrote about my travels. David was my copyeditor and honed his skills as a photographer. We found that we enjoyed our new portable careers—it was a dream come true. We were fulfilling a lifelong passion for writing, photography, and travel in a way that we could never have done back home.
On July 4, 2005, we left our home and set off to discover the world. We spent the next two years traveling, living out of our backpacks. During that time, we learned how little we really needed to live well. We had a few changes of clothes, our computers and camera, far too many books, and little else, yet we found it was all that we needed.
Yes, it was scary. We were heading off on an adventure, leaving our home with one-way tickets to mysterious Southeast Asia. We've discovered that making friends is much easier than we had thought. After being in a place, sometimes for only a little while, we start to recognize familiar faces. A smile and a nod one day becomes a conversation the next.
Most people are curious, and everyone likes to compare and contrast. For our local friends, we are a window to the bigger world. And like our expat friends, we have faced the challenges and rewards of living in a foreign country.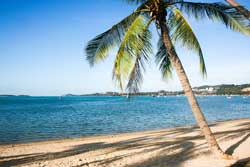 Curiosity and questions have been the foundation for many good conversations, and the basis on which we have built many lasting friendships. After almost three years of constant travel, we moved out of our backpacks. We rented an apartment in Thailand for a while, then later in Malaysia and eventually we settled in Vietnam, where we now live. In between places, we traveled more—to China, Mongolia, Indonesia, Japan, Burma, and beyond.
Now, we base ourselves in Hanoi, Vietnam but we still travel when the urge strikes us. We make occasional visits back home, too, though it no longer feels the same.
I can honestly say that, while it was scary, retiring early was one of the best decisions that we ever made. We've traveled to some amazing places, made many deep friendships and have a newfound sense of energy and purpose. We've risen to the challenges and learned along the way.
As one year has gradually turned into the next, our lives have become so much richer and more rewarding than we could ever have imagined. It's been 11 years since we retired, and we're still young enough to enjoy every minute of it.
Get Your Free Report on the World's Best Places to Retire:
Learn more about the best places in the world to retire in our daily postcard e-letter.
Simply enter your email address below to sign up for our free daily postcards and we'll also send you a FREE report on The World's Top 10 Retirement Havens.
Get Your Free Report Here