A cobbled square, an outdoor café, a sky full of stars. Vincent van Gogh's Café Terrace At Night is laden with the romance of place—I always want to step into the picture and sit at one of the tables…drink a glass or two of wine…join the patrons in idle conversation. Van Gogh painted the picture during his time in Arles—a small city in Provence in the sunny south of France.
On the banks of the river Rhone, it comes with Roman ruins, a lively arts scene and a fabulous Saturday market. And if you lived in Arles, you could spend every evening on that café terrace if you wished. Now renamed Café Van Gogh, it's still there on Place du Forum.
Provence is admittedly expensive for coastal properties or farmhouses among the lavender fields.  But you could buy an apartment (656 square feet) in the center of Arles for €135,000 ($148,000).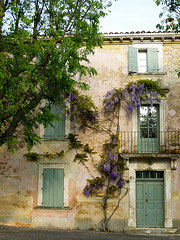 Places with a past, places with an air of mystique, places for the hopelessly romantic—Europe has numerous locations that fit the bill for those with a budget under $150,000.
Named after the Dordogne river, another of my own favourite places in France is the Dordogne departement. Part of the region of Aquitaine, it's where a rural idyll of vineyards and duck ponds meets up with medieval villages, market towns and prehistoric cave paintings. Flowing through deep gorges, the Dordogne is a spectacularly scenic river. All along its 300 mile length, chateaux perch dramatically atop towering cliffs.
In and around likeable towns like Brantome, Bergerac, Eymet, Montignac, Nontron and Sarlat-la-Canéda, plenty of country cottages and town apartments are on the market for less than $150,000. Often a lot less.
One example—a two-bedroom cottage of 1,010 square feet with a small garden for €119,000 ($128,500). It's located in a village that's only a 15 minute drive from Sarlat-la-Canéda.
With its intact medieval center and huge market that entices foodies from miles around, Sarlat-la-Canéda is the undoubted gem of the Dordogne jewel box. But even here, you can find 750-square-foot apartments in the historic center for €103,000 ($111,000).
Or how about Spain? Backdropped by the snow capped peaks of the Sierra Nevada mountains, Granada is the most theatrical of southern Spain's Moorish cities. Arguably the most romantic too, especially at sunset.  From the Cerro del Sol (Hill of the Sun), it's as if a magician is turning the Alhambra palace to gold and then dusky pink.
I've been lucky enough to experience a Granada sunset several times. As I write,  €128,000 ($138,240) would buy that view from a two-storey terraced house (1,140 square foot) in the Albaicin quarter. A labyrinth of narrow streets, this is the old Moorish quarter of the city that sits on a hill facing the Alhambra and the Sacromonte quarter, famed for its flamenco.
Staying in southern Spain, €135,000 ($146,000) is the price of a 699-square-foot apartment in the heart of Seville's atmospheric Barrio Santa Cruz. All narrow lanes, flowery courtyards, tapas bars, orange trees and whitewashed houses, this is the city's former Jewish neighbourhood. I don't know if it adds to the romance, but Lord Byron's epic poem about Don Juan was based on a local libertine.
Italy is synonymous with romance—and not only because Verona was the setting for Romeo and Juliet and Casanova seduced his way through Venice. Down through the centuries, its charms have enticed artists, writers, poets—and honeymooners too.
From the northern Lakes to the Amalfi coast, Italy has no shortage of heartbreakingly lovely locations.  Tuscany always tops many wish lists, but most people think its way beyond their budget. Think again. If you wander away from the tourist trail into Tuscany's outer edges—areas like the Lunigiana and Garfagnana—you'll find village house hideaways for $130,000-150,000.
A mill house beside a gurgling stream awakens the inner romantic in most people. If taking on a project appeals, one near Licciana Nardi in the Lunigiana can be had for €110,000 ($118,800). Although the mill house needs complete renovation, the property includes a restored 645-square-foot stone cottage.
Steeped in its Celtic past, tapping its feet to a fiddle, Ireland is for romantics who prefer a cooler climate. Traditional thatched cottages aren't as common a sight as in the past, but you can still find them in most counties of the Emerald Isle.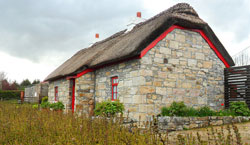 In the lakeland county of Leitrim, one stone built cottage with three bedrooms and a thatched roof is €119,000 ($128,500). Fully restored, the property includes a large garden with two horseboxes and a large garage/workshop.
In county Cork (think magnificent beaches and flowery lanes), €80,000 ($86,400) buys a fully restored thatched cottage that's 200 years old. The cottage has three bedrooms and views towards the Boggeragh mountains.
At this moment, your dollars stretch a long way against the Euro. And we've only given you a taster of what's on offer in France, Spain, Italy, and Ireland. From Portugal to Poland, almost every country in Europe can romance you for under $150,000—if you know where to look.
Exchange rate: €1 = US$1.08
Get Your Free European Report Here:
Learn more about Europe and other countries in our daily postcard e-letter.
Simply enter your email address below and we'll also send you a FREE report – All the Charm and Romance of Europe…at a Price You Can Afford.
This special guide covers real estate, retirement and more in Europe and is yours free when you sign up for our postcards below.
Get Your Free Report Here