This morning, I awoke to bright blue skies, crisp autumn air, and the slow, muted clanking sounds of cows wearing big metal cowbells and moving down the street just outside my window.
You see, today I am living in a small town in the Swiss Alps. It's October, which means the farmers are bringing their cows down from the high altitudes and into the low fields and warm barns for the winter. The air smells faintly of fields and campfires. And aside from the bells, all is quiet.
I open the windows to let in the crisp morning and sit down to write as the cowbells fade into the distance. It's peaceful and I am sure I'm going to get a lot of writing done today.
Only a week ago, I was waking to a very different scene.
Living in a Spanish household for a few days in the Eixample neighborhood of busy Barcelona, I woke to the sounds of speedy Spanish conversations, the patter of light morning rain, and the feel of the thick, warm Mediterranean air—a welcome change from the chill of the Alps.
During those four days, I woke up early, slipped into my sleeveless shirt and open-toed sandals, and made my way out into the busy morning bustle of the city. I met with an expat doctor friend for conversations about health care in Barcelona, an impromptu tour of her neighborhood, and, of course, some churros and chocolate in one of her favorite quirky cafés, a place called Creyón Café.
I found a cheap sandwich shop with fresh-squeezed juice and reliable Wi-Fi where I could work for an hour or two over dinner on the first two nights. And on the last night I indulged in a plate of one of my favorite Spanish dishes, arroz negro (rice blackened with squid ink and full of spices and, appropriately, the squid itself).
A week later, I'm back in the Alps, enjoying the quiet and the chill of autumn. But the truth is I won't be here long.
In just a month, I'll be waking to something new and different all over again as I explore the southwestern coast of France in a region called Aquitaine.
The area is known for its surf schools, lighthouses, sandy coastlines, casinos, and (my personal favorite) chocolate production. When I think about waking up there this November, I imagine it will be with the salty smell of the sea, the cool temperatures of autumn, and probably a chocolate croissant or two (after all, it is France and the region is known for chocolate).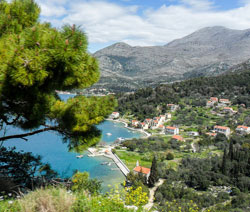 The region has a reputation for being a little pricey, but I've already found a nice, furnished place for just $500 a month—so I'm confident that these fancy beachfront towns can also be affordable.
So, why all this travel? All this movement? All this time waking up in new European cities, countryside towns, and beachfront studios?
The answer is two-fold: First, simply because I love it. I love newness and change. I love waking up to the sound of seagulls one day and cowbells the next. And so this is how I've crafted my life.
Second, I am an IL insider and correspondent, scouting Europe on your behalf. This not only allows me to travel, but requires it. It's my role to find the hidden-away churro shops, to dig up the best deals on housing and travel, and to always keep an eye out for interesting and unique places and experiences—like the little-known winery, Rebbau Spiez, just outside Interlaken, Switzerland, where they've just started selling a unique white wine that is so new it doesn't even have a name yet.
And so every few weeks, I find myself waking up somewhere new—breathing in the scent of fresh-baked bread while living over a boulangerie (bakery) in Paris in the fall, soaking up the welcome warmth of the winter sunshine on Croatia's Dalmatian Coast, feeling the snow crunch underfoot as I return to my quiet, scenic home base in the Alps in between, and always, always looking for something new, interesting, and useful to write about.

Get Your Free Europe Report Here:

Learn more about romantic Europe in our daily postcard e-letter.
Simply enter your email address below and we'll also send you a FREE report – All the Charm and Romance of Europe…at a Price You Can Afford.
This special guide covers real estate, retirement and more in Europe and is yours free when you sign up for our postcards below.
Get Your Free Report Here