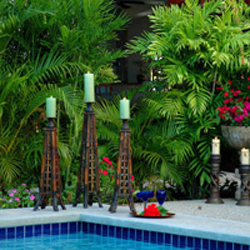 Name: Lynn Armstrong
Age: 50's
From: Illinois
Living in: Corozal, Belize
My husband Bob and I were looking for a change. We wanted a slower pace of life, a cheaper cost of living. And we wanted to meet new people who shared our same sense of adventure.
We found it all in Belize.
Before moving to Belize we were living in the Bahamas. You might ask why move? We loved the crystal clear waters and white sandy beaches there, but we found the cost of living high and I really missed fresh produce. Plus if I wanted to do any kind of work and supplement our income it wasn't likely to happen. That's when we started looking in Belize.  On our first visit we found our property, a market brimful of fresh produce and it is a much cheaper place to live and do all the things we like to do.
We've been living here three-and-a-half years now and run a successful B&B. Belize is English-speaking and the cost of living is low, but one of the best things about being here is that there is always tomorrow. Nothing is so urgent that it can't wait. In the States I could never relax until everything was done right then, but the list just went on and on.
Of course, it's easy to keep busy here, too, if that's what you want. There are all sorts of things to do: look for investment opportunities, luncheons, garden clubs, yacht clubs, women's clubs, men's clubs, yoga, water aerobics, rotary, volunteer work, school lunch programs, dinner parties… Or just lie in your hammock watching flocks of parrots fly by or the fish jumping in the bay. Then there are all those books you never had the time to read in your old life…
We didn't intend to set up a hotel or B&B, but one day we saw the shell of a building completely covered by bushes and we thought of all the possibilities. We couldn't resist jumping at that chance. Since then we've acquired more property near us on the bay and on the only canal in Corozal. Many of our guests are people coming to look at property and get a feel for living a different way of life, and to relax.
Ambergris Caye is just a hop away or we can soak up some night life in Chetumal, Mexico, just over the nearby border. Then there is the Mayan archaeological site Lamania, which is a pleasant boat ride up the New River, or the Mayan site of Cerros…you take a hand cranked ferry to get there.
One thing I hear over and over again from guests is how friendly and happy they find the locals. Belizeans want to please you and will do their best to do just that. And they have such wonderful smiles. It brightens your day. I have never seen such happy and well-behaved children. In this country it appears the younger people still show respect to their elders.
Of course, there are challenges when moving overseas. But my biggest was deciding what to bring and what to leave behind. My advice? Just do it. There is no time like the present.
Editor's Note: Learn more about Belize and other countries from around the world in our free daily postcards. Simply sign up for these free postcards here and we'll send you a free special report: Belize: The Top English Speaking Retirement Haven in the Caribbean.