In uncertain times, smart investors look for a safe haven.
They look to assets like real estate…in places where they can park themselves and their money.
Uruguay is one of those places.
This little country rarely makes the news headlines. It's a beacon of stability in an uncertain world. So much so, it's almost dull. But there's nothing dull about making fat gains on your money with a successful real estate play.
And in this month's issue of RETA, I outline two plays we can use to do exactly that.
Why Uruguay?
Uruguay has quietly become one of the best places in the region to invest in real estate.
It's thanks to safety and security, government incentives, top-notch infrastructure and business-oriented leadership.
Corruption levels are low. Government is transparent, the people are prosperous, and the economy is strong. About 60% of the country is designated as middle class.
The World Bank calls it a high-income country. Uruguay is First World but still affordable—perfect if you plan to spend time in the country.
Here's How We'll Make Our Money
At RETA, one of my core strategies is to get ahead of a Path of Progress. This is an event that is opening up a location and making the real estate there more in-demand…and more valuable.
In the case of Uruguay's Atlantic coast, the Path of Progress is set to turn a once quiet coastal area with some of the best beaches in the country, fringed by nature reserves and lagoons, into a favorite vacation destination of South America's elite.
It's the natural extension of the Path of Progress that started many decades ago in Punta del Este, Latin America's premier jet-set destination…a haven of celebrities, the super-wealthy, movers and shakers, models, royalty, and the like.
By getting ahead of this Path of Progress, and locking down the best ocean-view, walk-to-the-beach lots, we're set for big gains.
That's why I've negotiated a deal with one of the premier developers in this region.
We can buy from a developer who purchased the land for his project way back in the 1990s. One parcel he purchased, for example, was a potato farm. He paid $1,500 per hectare (around $607 per acre). That's a steal for land with ocean views a short stroll to the beach. And that gives him more flexibility in his pricing for RETA…and hands us big savings.
Because of RETA's group buying power, we're getting further saving of 15%.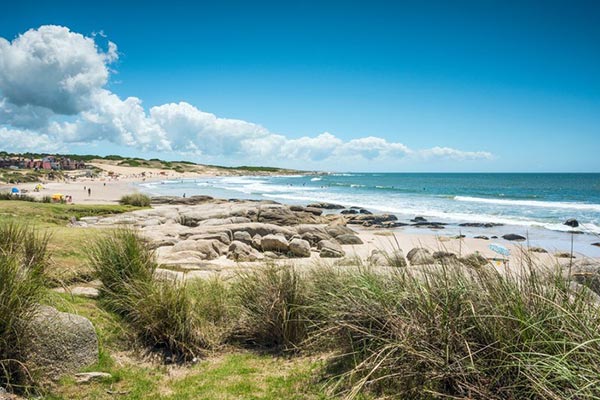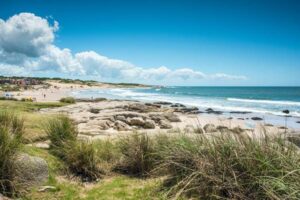 And, like I say, we're buying ahead of a Path of Progress…
The Path of Progress we're following is one that started in the early 20th century in Punta del Este. Punta is the St. Tropez of South America…where the rich and famous come to see, and be seen on, its beautiful beaches.
As Punta got more crowded, the jet-set started to look east for more privacy and exclusivity. In 1965, a new bridge made the surf town of La Barra easier to get to. The jet-set followed, transforming La Barra into a chic getaway.
As La Barra became busier, the jet-set looked east along the coast again. This time they headed to Jose Ignacio, a rustic fishing village that's 40 minutes from Punta. Today, it's likened to the Hamptons—where the super-rich mingle with locals on the beach, shabby chic is the style of the day, and the emphasis is on farm to table food, late lunches, and even later parties.
Nice homes in Jose Ignacio cost millions of dollars. And, for a half-acre lot with an ocean view, you're looking at $250,000.
Now, this Path of Progress is repeating itself. The jet set are looking east again…
…to where we have our opportunity to buy lots with ocean views at a killer price…
RETA members will get all the details in their issue today.
Stay tuned…
Your Daily Dream Home
Lönsboda, Osby, Sweden
700,000 KR ($82,977)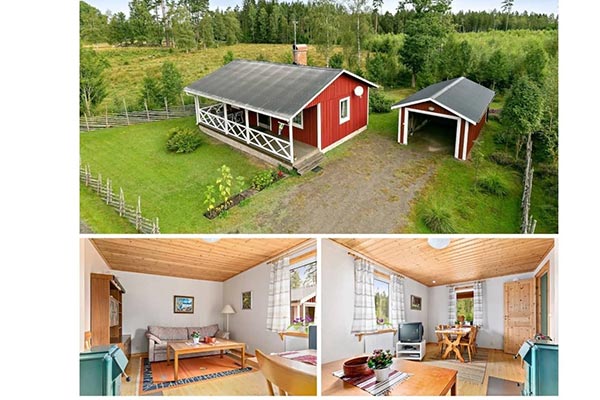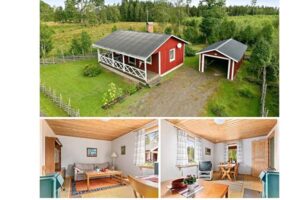 If, however, they still want to own real estate in an IRA, then they should make sure they have plenty of spare cash in that account. The idle cash they have in the IRA, along with whatever annual contributions they're eligible to make, is the only cash they have to pay for insurance, property taxes, property management, repairs, remodels, upgrades, maintenance, etc.
If, for instance, they want to upgrade or replace kitchen appliances, or need to make repairs that insurance doesn't cover, all the necessary cash must come from within the IRA. They cannot simply add more to meet their spending needs (beyond the annual contribution).
Remember, we don't make money from any listing shared here in the Your Daily Dream Home section. We have no dog in the fight. We're just sharing cool properties we've found.
I haven't visited this property or done due diligence on it. If you're interested in the listing, you should hire an attorney and do your own due diligence.
Get Your Free Real Estate Report Now
Sign up for our free daily Postcard e-letter and get a valuable free report on the The 5 Best Places to Buy Real Estate In 2023.
Related Articles
Hidden Gems and Rare Deals in San Miguel