"Buenas," he says, nodding his head as he rides past. Leathery tan on a face framed by a worn cowboy hat, he's the very picture of a Marlboro Man. Except he's Panamanian.
I'm sitting in an ancient Lada Niva—a Russian 4×4 made for rugged terrain. We've stopped so our cowboy (and his herd of cows) can pass safely. It's a chance to take in the view…
In the distance I can see the national park, where hiking trails crisscross hills lush with rainforest. In the treetops above me, I've seen monkeys and toucans and several species of birds I can't name. This is Santa Fe de Veraguas, Panama—a tiny mountain hideaway about 200 miles west of Panama City.
It's the kind of place where $6 will get you a sack of fruit and vegetables…and two chicken breasts for dinner. Where the town's one Internet café charges 60 cents an hour and your monthly water bill is rarely over $3. Where home rentals can be as little as $400 a month and any significant crimes take place on TV.
A couple on a budget could live on $1,000 a month in Santa Fe, easy. Expat residents Mitzi and Bill Martain agree. They retired here ten years ago to live the good life for less. "This was a place where we could live on social security, comfortably and happy," says Mitzi.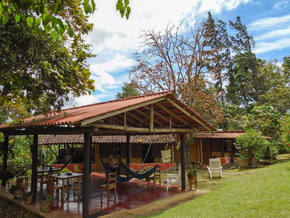 Santa Fe may have less English speakers than other, more popular parts of Panama…but the low cost of living is a function of this. You can hire help…cleaning ladies or even builders…for $15 a day. Utilities are low, too. A typical electric bill is maybe $20 a month, Internet is as little as $15, and cable starts at about $20. Trash pickup is just $2 a month, and gas for cooking will cost you even less.
Mitzi and Bill are very clear about one thing: While the cost of living is great, it's not the only reason they're living in Santa Fe. "We chose to be here primarily because of the people," says Mitzi. "Panamanian people are so wonderful, and will do anything and everything to help you out when they see you're trying to adapt and find your way. We respect and admire them, and we try to earn their respect and admiration, too. It's important to us…especially here in Santa Fe, where there aren't many expats. It's mostly local."
Mitzi is the picture of contentment, shelling peas on her tidy, sun washed porch as she shares her story (and her fresh brewed coffee). The property, says Mitzi, is the land where nearly anything grows. She and Bill grow heirloom vegetables and tropical fruit. The property is run through by the Santa Maria River, and there are plenty of cats and dogs, and wild life, too.
"We are so grateful for this location. We have waterfalls nearby and everything from birds to deer—and we're surrounded by flowers. This is home."
From its rural, rugged mountain-scape…to the mild sunny days and cool evenings…to the welcoming locals and the small expat community, Santa Fe truly does have it all.
Get Your Free Panama Report Here:
Learn more about Panama and other countries in our daily postcard e-letter. Simply enter your email address below and we'll send you a FREE REPORT — Panama: First World Convenience at Third World Prices. 
This special guide covers insider advice on real estate, retirement and more in Panama. It's yours free when you sign up for our IL postcards below.
Get Your Free Report Here