When the Spanish conquistador Pedro de Valdivia founded Santiago in 1541, he chose the site for the favorable climate, fertile soil, plentiful water, and ease of defense. While the weather still tops the list for many expats today, it's only one of the many advantages that Santiago offers.
"The attraction for me is the weather, stability, and the safety. It's a comfortable and safe place for a woman on her own. It's very cosmopolitan," says Cecilia Evans, a U.S. expat in her 60s who has lived in Santiago for nine years.
Cosmopolitan, indeed—as well as comfortable and convenient. In Santiago you'll find modern skyscrapers, including the tallest building in Latin America. There's a sleek and efficient subway system. Popular cuisine from around the world is paired with fine Chilean wines in the city's many upscale restaurants. And opera, ballet, Broadway hits, great museums, and dozens of galleries abound.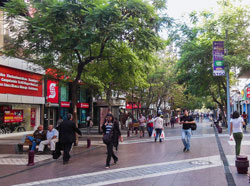 And for much of the year you can stroll the city in shirt sleeves—even in winter, you'll rarely need more than a jacket. Santiago sits in a long, narrow mountain valley and, like Southern California, has a mild, Mediterranean climate. Summers are hot and dry, with days averaging 85 F and nights 58 F. Winters are warm and moderately rainy; average daytime highs are 58 F and nights 37 F.
Santiago costs more than some other Latin American cities, but many expats still enjoy its First-World lifestyle for less than it costs to live back home. North Americans in Santiago save money with convenient public transportation, as well as with lower property taxes, and lower private health care costs than they'd pay back home. The expats I spoke with pay between $80 and $250 per month for private health care plans. All speak highly of the care they receive. The bottom line for a couple living comfortably in a rented, two-bedroom apartment, with building staff and a swimming pool, is around $2,600 a month—including private health care.
One of the top attractions for many expats is the robust business climate. Santiago is ripe with self-employment opportunities. This could be ideal if you want to supplement your retirement income with the income from a small business.
And of all the Latin American cultures, Chile's may be the easiest for North Americans to adapt to. Santiago's economic development has strong U.S. influences. There are U.S.-style grocery stores, U.S. clothing brands from Gap to Brooks Brothers, U.S. chain restaurants from Taco Bell to Tony Roma's, and more than 40 Starbucks.
Free Chile Report:
Learn more about Chile and other countries in our daily postcard e-letter. Simply enter your email address below and we'll send you a FREE REPORT – Chile: Safe, Stable and Spectacular First World Living.
This special guide covers real estate, retirement and more in Chile and is yours free when you sign up for our IL postcards below.
Get Your Free Report Here