International Living's Annual Global Retirement Index 2014 has just been released, detailing the top 24 countries in the world to retire to. In the Special Benefits for Retirees category in the Index, we consider whether retirees get a good deal for health care, importing goods, entertainment, airfare, utilities, tax rates, residence and more. Panama, Ecuador and Costa Rica have topped the list in this category.
Benefits that retirees can take advantage of in these three countries range from savings on utilities, paying less for health care, and even half price entertainment. These countries will help you to save big in your retirement. See below for some of the discounts (and privileges) you'll receive as a retiree overseas.
Free Retirement Report
Sign up for IL's free daily postcards and also receive a free IL report. Simply enter your email address below and we'll send you a FREE REPORT- The World's Top 10 Retirement Havens.

This special guide covers the best places to retire and is yours free when you sign up for IL's free daily postcard e-letter below.
Get Your Free Report Here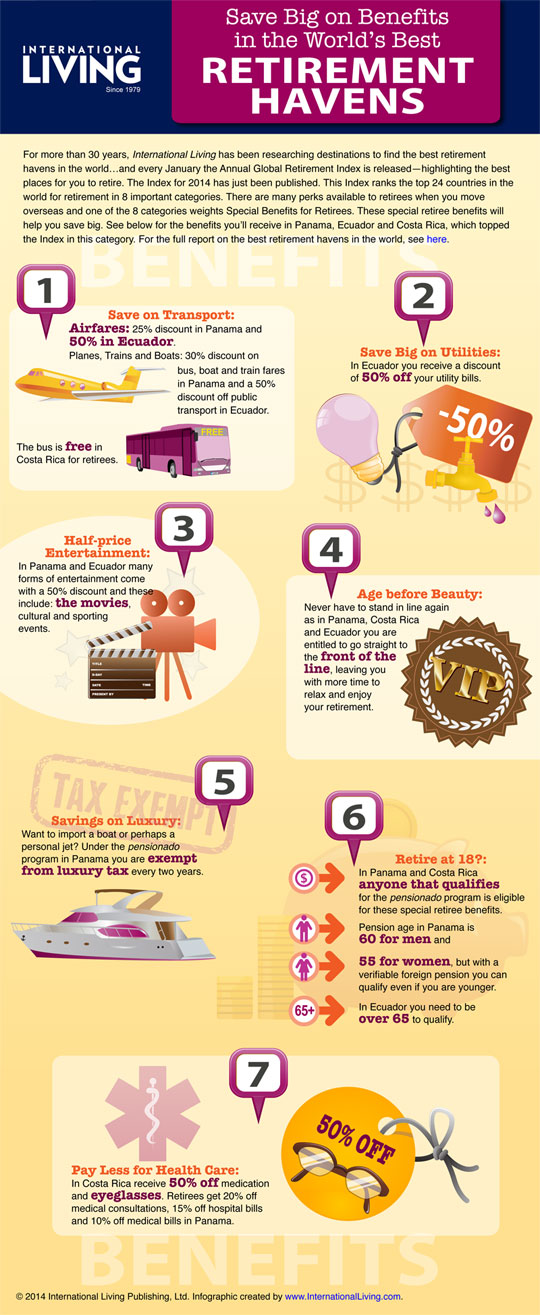 Click Here for Full Size Version
Related Articles:
The World's Best Places to Retire in 2014
Best Places to Retire Overseas and Get Retiree Discounts