Although my wife and I have spent 13 weeks of 2013 in Ecuador, and this Sunday celebrated our tenth month as full-time residents of the beachfront town of Salinas, we still from time to time experience "pinch me" moments where we can't believe this is our life.
Take, for example, last evening when we took a stroll down the brick walkway along the beach. It was about 6 p.m., so the sun was not quite down yet and there was a red glow to the western skies. Although it is November and back on the eastern seaboard in the States it was windy and cold, here in Salinas it was just under 74 F with a cool ocean breeze.
The weekend tourists were all leaving the beach, and the vendors were rolling up their canopies and taking them away, so we decided to walk back along the surf where it was quieter.
There we were, strolling in the sand and water with a bright moon starting to show in the sky, watching a flock of pelicans glide by, when Ann stopped suddenly and turned to me with a look of wonder on her face and said, "we live on the Pacific Ocean!"
A little over a year ago, living at the ocean was an impossible dream. I'm sure you're aware of how expensive it can be to live on the coast in the U.S. Then, once you're there, the weather can sometimes be very rough. If we wanted a nice, warm place where we could walk on the beach in February in the U.S., we would have to be looking at million-dollar neighborhoods deep in southern Florida.
Who would have thought we could not only live on the Pacific Ocean, but that we would actually be saving money by moving there? All of our bills are majorly reduced; the cost of living here throws up so many "pinch me" moments, I still can barely believe it. Our 2,100-square-foot, modern, beachfront condo cost us just $220,000 (and it's just one of many affordable properties here). When we go to the market, we fill our bags so full of produce that we can barely carry it all. That costs us less than $20.
The availability of healthful, delicious foods at ridiculously low prices contributed to my next pleasant surprise. In the first couple of months that I live here, I noticed the weight start to drop off me.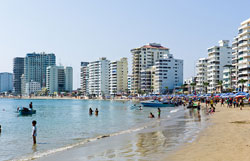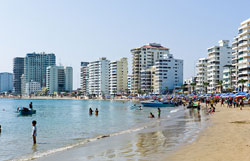 In two months I had lost 10 pounds. After just three weeks, I had to cut my diabetes medication in half because my sugar was getting too low. Because it's so much easier and cheaper to eat healthily here…and because walking along that beachfront is such a pleasure…many expats in Salinas find they lose a lot of weight in their first year without even trying. So far, I've lost a grand total of 65 pounds since January, and this week I was able to drop my blood pressure medication.
What really astounded us about living healthier in Ecuador, though, is that local doctors make house calls.
One day, when I fell ill, I phoned a doctor recommended to me by some other expats. After contacting him on his cell phone—he answered the call personally—he asked me for my symptoms. Upon hearing them, he told me he would call to our condo.
His visit, diagnosis, two injections he administered, and the prescription drugs, all cost me just $60.
You can see why I find it hard to believe, sometimes, that this really is my life. But it's not a dream—it's our new reality.
We're so happy that we took the leap and stopped dreaming about a better lifestyle, and made the move to wake up every morning here in Salinas, Ecuador.
Get Your Free Ecuador Report Here:
Learn more about Ecuador and other countries in our daily postcard e-letter.
Simply enter your email address below and we'll send you a FREE REPORT – Ecuador: Live Like Royalty on Your Social Security.#
This special guide covers real estate, retirement and more in Ecuador and is yours free when you sign up for our postcards below.
Get Your Free Report Here