Starting today, I'm going to be adding even more great content to Your Overseas Dream Home…
At the end of each article, along with space for your questions and comments, I'm going to include a selected cheap dream home listing from somewhere across my global beat.
These will be historic stone homes in time-worn villages that you can own for as little as the cost of a new car… rambling old mansions where your monthly payments are under $500…ocean-view cottages with enough land for a vegetable garden…lock-and-leave city apartments for under $99,000…
You get the picture…
These are not RETA-grade deals where you can expect to double your money in five years or less. They may not have strong appreciation or rental potential. But they are potentially great lifestyle buys. Turnkey boltholes that are light on your pocket but the perfect base from which to explore a wider region…a haven to hide in when things get chaotic.
You'll find my first pick at the bottom of this e-letter. And be sure to check back each day for more…
First however, I want to transport you to the sparking azure waters of the French Riviera, where my senior researcher, Margaret Summerfield is currently scouting for a new base of her own.
Today, she reveals what she's found in the glitzy city of Cannes…
***
See How Far Your Real Estate Dollar Will Go in Cannes
By Margaret Summerfield
As I write, I'm in Cannes on France's iconic Riviera.
I'm looking for a new base in southern Europe after almost 14 years in Panama. I'm not sure Cannes quite fits the bill as a new base, but I'm enjoying my time in this ritzy city.
Here's a photo I took of one of the murals scattered around the city, with film related themes. (You can read more about them here.)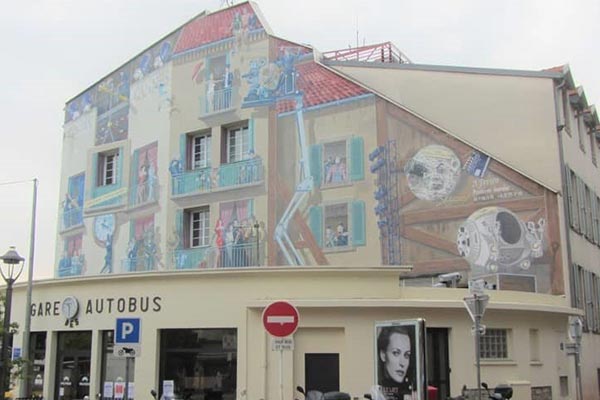 I'm staying in a residential building in the heart of the city. It's a premium location. Everything is close at hand, only a five- to 10-minute walk away. Shopping, supermarkets, and banks. Restaurants, bakeries, and cafes. Beautiful public beaches and private beach clubs. Spas and beauty salons.
Yet the building is mostly empty.
It's not just this building. Most buildings in the neighborhood are the same. Window shutters closed, lights off, nobody home.
That's because Cannes is a top spot for vacationing. It's estimated that as many as 48% of the homes in Cannes are second homes (or, in some cases, third, fourth, or fifth homes). The owners spend a limited amount of time in Cannes. Many don't rent their second homes out, either.
Cannes has obvious appeal as a vacation destination. It's on the French Riviera, also known as the Côte d'Azur ("Azure Coast").
This coast started as a playground for aristocrats—the likes of Queen Victoria, Tsar Alexander II, Leopold II of Belgium. From the end of the 19th century, artists and writers also frequented the Riviera: Auguste Renoir, Pablo Picasso, Francis Bacon, F. Scott Fitzgerald, Aldous Huxley, and Edith Wharton.
With 310 to 330 days of sunshine a year and mild winters, the weather is a big draw. As are the amenities. There's 71 miles of coastline and beaches. There are 19 golf courses, 17 casinos, marinas, ski resorts, and more than 5,000 restaurants. It's estimated that most summers the Riviera hosts half the world's superyachts.
There are some upsides to owning a second home in Cannes, too. There's no supertax on second homes in the city, unlike Paris or Nice. The supertax is a 60% increase in the annual property tax.
In Cannes, there are also no restrictions on short-term lets, unlike Paris, Nice, and many other towns and cities across France. You are free to rent your home as much (or as little) as you like.
The French Riviera (pre-pandemic) hosted around 11 million visitors a year.
Cannes hosts many festivals, a full calendar of events in normal times. The famous Cannes Film Festival is the best-known. But there are also music festivals, fireworks festivals, car shows, boat shows, and countless conferences and congresses. Own a condo that's walking distance to the Palais des Festivals, where most events are held, and you'll have no problems renting it short term.
But owning in Cannes will not come cheap.
The building I'm in dates to the 1970s. It's in a great central location, but it's definitely older style. The condos have good bones—marble floors, floor-to-ceiling windows, lots of space. The one I'm renting has wraparound balconies and it's on a higher floor. It comes with a view over a neighboring garden, filled with trees on one side and tennis courts the other. The owner has put in a new bathroom and kitchen.
There's a similar two-bed condo listed for sale in the same building for €435,000. It's on a lower floor in the building, the views aren't as good, the balcony is smaller, and the kitchen and bathroom need replacing. The condo is only 63 square meters (678 square feet), so the list price works out as €6,905 per square meter. The building has a caretaker, gardener, and manned reception, so the monthly condo fee is €280 (even though there are no shared amenities). Annual property taxes on the condo are €1,200.
I did find a condo for sale for €120,000 in the same neighborhood, in a 1930s building. But it was a tiny studio of only 16 square meters (172 square feet) so €7,500 per square meter. And it needed a total overhaul.
Go a few hundred yards down from this neighborhood (Basse Californie) into the prime sea-view strip along Boulevard de la Croisette and prices soar even higher.
With a sea view, and opposite the Palais des Festivals, there's a two-bed, one-bath condo for sale. It's 55 square meters (592 square feet), on the 8th floor. It's in a 1970s building. The list price is €1.395 million. It's not fancy or wow. In fact, it's very so-so. But it's a whopping €25,364 per square meter.
That's for an old, dated building. But for a brand-new one, you'll pay even more. There's a new building with a Dolce & Gabbana store on the ground-floor, in the heart of the Croisette. It's steps to the Palais des Festivals, the beach, shopping and dining. The condo is large, with three bedrooms and 174 square meters (1,872 square feet). It's listed at €7.9 million. That's a staggering €45,402 per square meter.
Would I buy something here for investment? Definitely not. I can't imagine you'd ever generate a decent yield on the condo above. And you can't guarantee capital gains either. Markets with a high proportion of second homes tend to get rocked by events far from home—sanctions, wealth taxes, stock market crashes. Second homes are one of the first assets to go when times are tough.
But it is a fantastic lifestyle play. If you enjoy the glamour and glitz of this Riviera, and the good things in life, Cannes is a nice spot. And, if you go outside Cannes, into the hills around the city, your real estate budget will buy more.
But, still not as far as it will go elsewhere. I can't help but compare what your money will buy here to the Riviera Maya on Mexico's Caribbean coast. You won't get the superyachts, the supercars, or the same number of designer boutiques on the Riviera Maya, but you will get great dining, gorgeous weather, and fabulous powder sand beaches. And a downtown two-bed condo in the heart of Playa del Carmen will set you back a fraction of Cannes pricing. With a budget of say $250,000 to $300,000, you could buy a luxury two-bed condo in Playa, a short stroll to the beach, dining, and shopping. Try doing that in Cannes!
Your Daily Dream Home
Limousin, France
€82,500 ($97,164)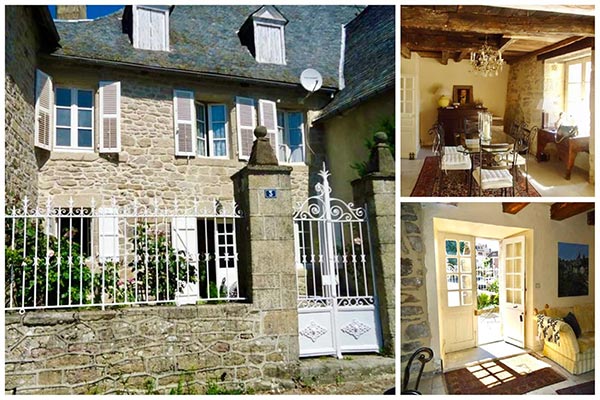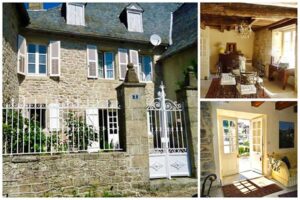 This traditional five-bedrooms French home in the heart of the medieval village of Treignac in Limousin lists for just €82,500 ($97,164). It offers stone walls, exposed wood beams, a wood burning stove, and a very French chandelier. The kitchen is full fitted. And at the front of the house, there's a spacious south-facing courtyard. The perfect spot for freshly brewed morning coffee and fresh buttery croissants!⁠⁠
I haven't visited this property or done due diligence on it. If you're interested in the listing, you should hire an attorney and do your own due diligence.
Get Your Free Real Estate Report Now
Sign up for our free daily Postcard e-letter and get a valuable free report on the The 5 Best Places to Buy Real Estate In 2023.
Related Articles
Cheap Homes in Year-Round Springlike Climates
100% Legal: Profit from the Colombian Drug Trade
A Note From the Road on Mexico's Pacific Coast