A while back I ran into an expat friend here in Mexico who was in a quandary. He'd just been offered a commercial space in a popular neighborhood to open a coffee shop, an extension of his original café.
The thing is, my friend already had some other projects in the works, so he was feeling stretched a bit thin. But the offer was very appealing…not to mention flattering. After all, it was a vote of confidence from another business in the area.
In the end, my friend accepted the challenge. Today the new café is a great success, and my entrepreneur friend can now consider himself the founder of a café chain. Not bad for someone who never thought of running a business before he moved to Mexico.
His case is not unique. I meet or hear of expats all the time who run businesses they'd never have dreamed of before they moved to Mexico. There's something about moving abroad that leaves many of us open to trying new things and seizing opportunities. (Maybe it's the "out-of-the-box" thinking we do to make the move in the first place.)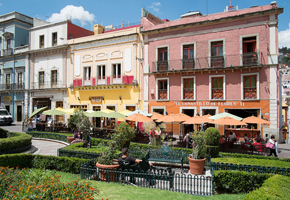 But I also like to think that there's something about Mexico, too, that fosters a spirit of entrepreneurial adventure. I've lived here for over eight years now, traveling the country as IL's Mexico editor, and I'm still amazed at Mexico's diversity and potential.
Expats come here for a life that's relaxed, affordable, and, above all, different from the one they left behind. And they find all that in Mexico. They also find a big country where opportunity is everywhere…and where they're free to explore those opportunities. Feel like turning your favorite hobby into a money-making business? Here, if you think you can do it, just go for it.
I hear expats talk about how much they love where they live and what they're doing. Where I used to live, in the Yucatán Peninsula, much of life was about the outdoors, and so were the expats. They opened beach bars, dive shops, beach hotels, and B&Bs. And, like me, they spent their spare time scrambling around Maya ruins, snorkeling or swimming in the Caribbean, or observing wildlife in the biospheres.
Now that I live in Mexico's Colonial Highlands, you're more likely to find me at a film festival, a wine tasting, or a gallery opening. And, as often as not, that winery or art gallery, or that performance space where the film is shown, is an expat enterprise.
Throughout my years in Mexico, I've come to know expats who have opened B&Bs, launched restaurants, become real estate developers, or taught English. I've met expat real estate agents, dive shop owners, medical facilitators, and clothing and handbag designers. And that's not even counting all the hundreds (or thousands?) who run online businesses and work from home…or the beach.
Business opportunity is everywhere, if you're open to seeing it.
Get Your Free Fund Your Life Overseas Report Here:
Sign up for IL's Fund Your Life Overseas e-letter today and we'll also send you a FREE report about ways to earn money abroad. Simply enter your email in the box below and we'll send you this free report: Fund Your New Life Overseas With These 6 Portable Careers.
Get Your Free Report Here