---
In today's fast-paced world, some 7.6 billion of us scurry about, trying to make a living and get ahead…looking for technologies and discoveries that may improve our lives…make the world a better place…and make us some money.
All the while, vested interests are fiercely protecting their turf.
Every now and then, a breakout event happens. A scientist has a eureka moment. A bank collapses. A government or private group pulls together a game-changing infrastructure project.
Few outside those driving these changes have been paying attention. To the rest, these game-changing moments come suddenly, out of nowhere.
But those who were paying attention will have profited. If you're positioned in the right place, at the right time, with the right people, you stand to make a killing.
My beat is real estate—and this year is set to be a breakout year for many global real estate markets and opportunities.
Here's exactly how to put yourself in the right place at the perfect moment to profit…
#1: Solar Power Profits
Solar power is an example of an "out there" idea or technology that bubbles under the surface for a long time…before bursting into public consciousness. Since 2010, worldwide adoption of solar energy has increased six-fold.
For a real estate investor or developer, solar power is also having an important effect in heretofore inaccessible or off-grid places.
Earlier this year, a friend—a resort developer in southern Nicaragua—sent me a photo. Where once there was scrub behind the machinery sheds, they now have a little field of solar panels. "This will power the hotel, the clubhouse, and a bunch of our condos," he said. "Not only will it give us reliable power…but our investment in these panels will be fully repaid in less than eight years."
This is a boon for projects and communities connected to the grid.
Just imagine what it means for stunning land that's a perfect locale for a beach home…except that it's miles and miles from the grid. In a place that's already on the up—northern Nicaragua, for example—solar will be transformational.
I've been watching and following the developments in solar power for years, waiting for when it would be viable on a larger scale. Now it's finally reaching the point when solar power can replace the need to be hooked up to the grid.
There are still some limitations—batteries, for example, need to get to the next stage, where pricing drops and efficiency rises, before you can run your air conditioning overnight. But running an entire community of homes on solar is now achievable.
To put it simply, this is a huge deal for real estate investors and developers. I've been to some incredible places in my time, where it would cost $10 million to connect to the municipal power grid system 10 miles away. That kept the land values depressed in otherwise very attractive places.
I saw this firsthand myself last year, when running the rule over a major land investment in northern Nicaragua. It could have cost $5 million to connect the land to the grid. But solar was a game changer for the project's feasibility…and therefore the underlying value of land.
Real estate investors can profit by buying land in a stunning locale that's close to development but maybe 10 miles from electric mains. You get to buy at off-grid prices in a place as beautiful and rapidly developing as northern Nicaragua and profit as solar makes development possible.
This access to energy could increase the right land values five-fold. It's just like a Path of Progress event, except the progress is a technology, not a physical structure like a road.
#2. Crowdfunding Comes to Real Estate
There's a buzz in real estate circles about crowdfunding. In its simplest terms, crowdfunding is when a large number of individuals contribute to finance a project or venture. The internet has facilitated this, and it's been used for every kind of start-up, from food production to new software.
Now I'm starting to see more and more crowdfunding invitations and websites for real estate.
One of the earliest and most successful I heard about was in Bogotá, Colombia.
Back in April 2010, a group announced its crowdfunding project—a plan to build a 1.2-million-square-foot skyscraper. More than 3,800 Colombians contributed, to the tune of $170 million. The project was a huge success, and it really highlighted what could be achieved with crowdfunding for real estate.
Crowdfunding allows small investors like us to pool our money and invest like the big players. It's only become viable in the last few years, with regulatory changes that opened up this type of investment. I've been on the lookout ever since for a deal that stacks up. But so far, I haven't found anyone or any organization who's cracked the opportunity enough for me to make any specific recommendations.
The places where I think this investment vehicle could work best for a real estate investor are in fast growing emerging markets, where capital is expensive and scarce…like Colombia and Brazil.
The dynamic of these markets is almost a case study in where this model might make sense. Because capital is expensive and difficult to get, a small, connected circle can control and limit what goes on.
This keeps the development business highly profitable and not hugely competitive.
And this isn't an untested play. This exact model already exists in Brazil. Many of Brazil's biggest and most profitable deals are put together this way. The crowd that provides the funding, though, is a closed and wealthy inner circle. Crowdfunding is a way to open up investment in these big real estate deals to people who have previously been excluded, through lack of capital or connections.
My prediction is that we'll see a lot of hype and hear a lot of noise about crowdfunding in 2018. Only time will tell if we see any deals that grab my attention.
#3: Chinese Money Means Opportunity
In 2017, the Chinese government cracked down on overseas investment. That included investment in real estate.
But no matter how much the Chinese government tries to stop the outflow of money, it will continue to drive many markets. Chinese investors have been doing this for a long time—using all sorts of questionable (and sometimes flat-out illegal) vehicles to own abroad.
And they'll keep on doing that.
You may have seen Chinese money blow up places, like Melbourne or Toronto. I saw it firsthand in Cambodia nearly seven years ago, when I was scouting for opportunity. It was very early days for Cambodia's recovery from devastating conflict, yet Chinese money had already driven prices up too high—I saw no opportunity for investors.
But in Chiang Mai, Thailand, I think there could be opportunity to profit from that Chinese interest. It's a bigger and more diverse market, where I'm looking for the niche to play this trend. As I write this, I'm planning to visit to dig deeper into Chiang Mai's market and see whether there's profit to be made from the Chinese interest there. I'm also keeping an eye on Myanmar (formerly Burma).
Both places may yield no opportunity, as in the case of Cambodia. As poor as some of Southeast Asia's countries are, they're awash with government and Chinese money, driving prices higher. And the landscape for investment may not be favorable to a foreign buyer, despite Chinese interest.
So while I'm following Chinese money and will be digging deeper into Chiang Mai and Myanmar, time and research will show whether either will be places that I recommend in 2018.
#4. The Last of the Europe Crisis Deals…
For the last 10 years, crisis has been the defining element on my beat. And investors who got in on the right crisis deals have done well. I've been saying for some time that the window is closing in Europe, and I think we'll see it slam shut in 2018.
In 2008, the U.S. and most of Europe were in a deep recession. Economies tanked.
Banks failed. Housing markets stalled.
Developers went bust.
The 2008 crisis has given connected real estate investors some amazing opportunities worldwide. In Europe—and in Ireland and Spain, in particular—investors could buy homes for as little as 30% of pre-2008 prices.
It took quite a while for the deals to trickle through. Many states in the U.S. have a short, fast, and relatively painless foreclosure procedure. It leads to a sharp crash, followed by a clear-out. That's not the case in Europe, where the foreclosure process is long and complicated.
The market in Ireland, for example, went no-bid in 2008. But the banks didn't start fire-selling property until 2011.
In 2011, I recommended buying condos in Dublin. They were in a prime location, close to the International Financial Services Centre and companies such as Facebook, Twitter, Google, and LinkedIn, for $166,000. Now one of those condos could list for double—easily—and rent for $1,660 a month or more.
In 2018, I don't expect to find any hot opportunities in Ireland. The economy is on a tear, the population is growing, and there's a shortage of housing in many spots.
This is particularly acute in Dublin, where people are again waiting in line to buy or rent a home, just as they did pre-crisis. But values have also soared…our opportunity has passed.
It took until 2013 for fire-sale deals to come on the market in Spain. It was worth the wait. I focused on the Costa del Sol, a place that's been an internationalized destination since the 1960s for vacationers and second-home buyers. Investors who acted on my recommendations did extremely well from the crisis on this coast.
Take one recommendation I made in 2014, for example. A developer had failed and the bank had moved in, so investors could lock down a condo on the Costa del Sol for €129,000 ($160,000 at the exchange rate at the time).
Buyers who got in when I made this recommendation could have grossed €26,000 a year in short-term rental income since then. And there's been big capital appreciation on these condos. Now these same condos list for as much as €235,000 to €255,000.
But the big buying moment has passed in well-known parts of the Costa del Sol like Marbella and Puerto Banús. Though some strong deals are coming, they're getting harder to find.
I'm connected in Europe (and worldwide)—and I have visibility of what's coming down the track. From my view under the hood, I can see that it's coming to the end of the line for the good stuff.
In the next few months, I predict there will be opportunity to lock down marina condos in Portugal's Algarve from €180,000, and condos in the recently gentrified, historic port city of Málaga, Spain, from €130,000 early in this New Year. And this will be the year the little Spanish island of Isla Canela takes off, and where I expect there could be more opportunity to buy low.
I expect these last-gasp opportunities will follow the same appreciation trajectory as the best opportunities I have found for members of Real Estate Trend Alert—a gain of 23% to 27% in the first 15 months. Buy with an 80% mortgage, and that means you could double your invested cash (before costs).
With these last-gasp crisis deals, an investor is buying at the moment of maximum opportunity. You can still get in at a great price that reflects the 2008 crisis without the market uncertainty of 2008.
But a word of caution: Don't think, because a market is in crisis, that the real estate there is a buy. The right conditions have to align first.
Late last year, I headed to Greece. I'd been hearing a buzz that opportunity might finally be coming in Greece—and in Athens, in particular. I was keen to get the real story for myself. I've been keeping a close watch on Greece since it went into recession, to see when (or if) the moment would come when an investor could buy low with the prospect of an upswing in values.
I expected that there might finally be opportunity to profit in Athens, by locking down a condo close to tourist attractions for €40,000 to €50,000 and renting it short-term to vacationers.
Long story short, the moment of opportunity hasn't arrived in Athens. I wouldn't invest there. My concern is that Athens is on the brink of further breakdown. At a minimum, taxes will continue to grow, bleeding any solid investment of its viability. I don't see things turning around any time soon. And while you can buy cheap and rent to tourists, I'm just not comfortable putting my money into a place I feel as uneasy about as I do about Athens.
Things are still too chaotic and unsteady.
#5: Three Beach Towns That Are About to Explode
One man's crisis is another man's opportunity—or at least, that was the case for two of the most picturesque, charming, and high-end beach towns on my beat. And I'm fully focused on those towns for profit potential in 2018.
When the 2008 crisis hit, Placencia, Belize, and Los Cabos, in Mexico, both felt it. The after-effects of that crisis are still creating opportunity for real estate buyers a decade later…which is why they're ranked highly on my "2018 Transformation Zones" list.
Both Placencia and Los Cabos' real estate markets were heavily reliant on North American buyers. So when North America was in crisis, a stream of regular buyers temporarily dried up. But there weren't the big fire-sale auctions and heavily discounted deals prevalent in places like Ireland and Spain. Instead, their markets quietly stalled…as developers sat on the sidelines, waiting for the market to bounce back.
The effect of that on Placencia is that it paused its trajectory for a short time.
Placencia has been a slow burner for years, popular with adventurous and well-heeled vacationers who came to snorkel the reef or just chill in the Caribbean atmosphere and sunshine. It was set to take off in 2008, but went on hold when the crisis in North America hit.
Today it's back on an upward trajectory.
There's talk of an international airport opening up. Who knows if it will happen. If it does, it's the icing on the cake. Either way, someday very soon, Placencia is going to be on everyone's lips.
And those who have gotten in now will profit. I'm watching this market closely and flagging up exciting deals as they bubble up (including some long-held foreclosures that local banks have been reluctant to let go of.) And I'm working on a deal I'm hoping to bring to members of my Real Estate Trend Alert service in 2018—smaller, affordable condos at a price never seen before in the Placencia market, which will tap into an unmet demand.
More than 2,000 miles away, on Mexico's Pacific coast, the crisis has also created opportunity in Los Cabos: the chance to buy luxury at a deep discount.
This is a first in Los Cabos' history…and a rare chance to get something high-end with a tiny price tag. Pre-crisis, in Los Cabos, a $500,000 price tag for a luxury condo would have been laughed at…for being too low. That's the kind of market there is in this Pacific coast destination.
But when buyers dried up, developers got more creative. And that's what's led to this "luxury at a discount" moment in 2018.
Soon I expect to tell members of my Real Estate Trend Alert service about luxury condos in a stunning resort in the low $200,000s range. That's luxury for not much more than the bricks-and-mortar price. I expect the value of one of these condos will hit $450,000 or more in the next five years…and could gross an income of $40,000 a year. This isn't a moment that can last. I expect this opportunity to buy Cabo luxury at such low prices will pass very quickly.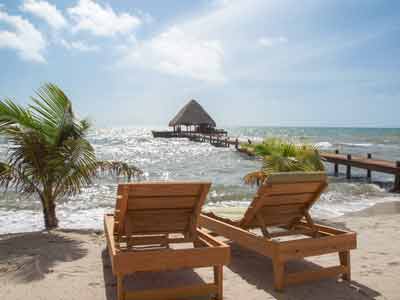 There's one more beach town that I expect to explode onto the map in 2018, after years of being on the up. That's the Caribbean idyll of Tulúm on Mexico's Riviera Maya. A Path of Progress is rolling down this coast and Tulúm is firmly in its sights. The population's growing rapidly, as are tourist numbers. But there's only so far the town, with its pretty beaches, can physically grow.
You see, Tulúm is the end of the line for this Path of Progress. Literally. You've got the Caribbean Sea on one side…a huge, protected biosphere reserve on the other…and strict planning and permitting rules on land south of Tulúm. There's only so much development that can happen. And, once Tulúm is maxed out, there's nowhere else for development to go.
Demand for real estate and vacation rentals in Tulúm is soaring. This is a place that's already cool—the vacation destination of the hipster and eco-chic sets. And this is the year Tulúm grows up from hip beach town to one of the region's fastest growing commercial and tourism centers. Those who get in now are set to profit. Late in 2017, I recommended condos from $154,500. I expect values will rise during construction by as much as $40,500…and that, with the right marketing, one of these condos could gross up to $35,000 a year. I'm getting ready to announce an opportunity I think is going to be just as strong.
I also expect real estate values in Tulúm will rise strongly in the coming years to align more with other Caribbean destinations where values are twice as high.
Now is the moment to get in.
#6: The Rapid Development of a Grand Colonial City
This year will be, I predict, a breakout year for the city of León, in northern Nicaragua. And with the right real estate buy in León in 2018, you could ride its growth and development to profit.
León is an attractive place. It's bright, colorful, friendly, and Nicaragua's second city. It has a big university population and is the center for government in the area.
My prediction is that León will become even more in vogue as an off-the-beaten-track tourism destination. Demand for small colonial rentals will surge from this year on.
But, though León is on the path to becoming popular with tourists, it's not dependent on it. Even if a single tourist never came to León, it would still be up-and-coming. The local middle class is growing. Gentrification is happening—new cafés and international restaurants.
Northern Nicaragua is becoming an energy hub for the country. And the government is investing heavily in growing the tourist market and industry here. There are a few ways to play León's breakout year. You could buy an old colonial affordably—under $200,000—and cut it into little rentals.
Demand for North American-style communities is coming to the edge of town.
You could buy land here and sell it to a commercial or residential developer.
With the right land purchase on the edge of town, a savvy developer could turn a $500,000 investment into $ 2.5 million in two years by subdividing the land.
Whatever way you play it, 2018 is the year to do it—before León seriously takes off.
#7. Land-backed Cryptocurrency
You've likely heard of cryptocurrencies like bitcoin…maybe even in the pages of this magazine. In simple terms, it's a digital currency. There is no treasury, central bank, or other governmental regulatory control of cryptocurrencies. Instead, all bitcoin transactions are recorded in a public ledger, known as "the blockchain."
Bitcoins have no intrinsic value. But what if your cryptocurrency could be backed by something real, and its supply tied to a finite amount of that real thing? I'm on the fringes of some private groups in which tech/real estate/finance folks are kicking around the feasibility of a land-backed cryptocurrency.
One that's less about speculation and more about frictionless functionality. I wouldn't be surprised if 2018 sees a land-backed cryptocurrency launched on the market.
I think it could take off. Human beings like real things that we can understand. If it takes off, it could increase demand for, and the value of, big land parcels. Watch this space.
Editor's Note: This article was taken from a past issue of International Living's monthly magazine. Delivered straight to your door each month, we delve into the details you need to take action. We share our contacts. We lay out the pluses and minuses. And we keep you up-to-date on the latest developments with the best havens abroad, including…7 Great Retirement Towns You've Never Heard of…
In 7 Great Retirement Towns You've Never Heard of Where You Can Live Better for Less we'll pull back the curtain and introduce you to communities where you can embrace the retirement of your dreams…and do it for less than it would cost you to stay home.
Subscribe to International Living today and you'll save 35% and receive this report for FREE.