Ecuador is a land of rainforests, breathtaking river gorges, and volcanic hot springs, where you can be pampered by affordable spa treatments or simply enjoy the beautiful landscapes. My life has changed over the last 10 years since I discovered how to fund my travels and spend more time there. I feel so fortunate to have had the experiences I've logged on my trips. And to make it even better, these were business trips. I made far more money than I spent. The priceless memories cost me nothing.
What do I do? Nothing too complicated. In fact, if you have shopped for souvenirs and gifts to take home when you travel, you've got experience. When I'm traveling, I keep my eyes open for unique, usually hand-made, items to buy and take home to sell. I search out local markets—artists' markets, craft shows, even farmers' markets— and sometimes I find wonderful high-quality items in shops too. I keep my business small and manageable that way. I also save the high costs and hassles of shipping.
My goal is to have fun, not to turn my business into a job. However, keeping my business small does not mean it is not profitable. My original goal was to find a way to pay for my travel. My suitcase importing does that…and more. If I wanted to devote more time to selling my products, I'm sure I could make a full-time income.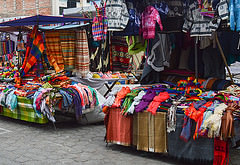 This type of suitcase importing works anywhere in the world, but it is especially easy to find high-quality items in Ecuador. The country has a rich heritage of craft traditions that are passed from one generation to the next. Learning about the traditional crafts of Ecuador gave me insight into the culture and history of the country.
I try to find items that are not readily available in stores. These could have an unusual material, color, or style. Customers like to purchase unique items and are happy to know their purchase helps support the artists and their families, as well as maintain their traditions. I personally select all of the items that I sell, and I only purchase items that I like and would wear or use as gifts.
Ordering mass-produced merchandise from a faraway factory has no appeal to me. I got into this to be able to travel, meet new folks, and explore. I have formed friendships with the families I buy from and have great stories and photos to share with my customers. The intangible benefits of my business are many and very rewarding. If you are interested in doing suitcase importing, the easiest way to start is to purchase items at a market.
In Ecuador, the Otavalo market is the place to go. It's one of the largest outdoor indigenous markets in the world, and the variety of items on display for sale can be overwhelming. But it's also very exciting and fun. One of the most enjoyable spinoffs of my business is leading tour groups on suitcase importing tours. I share my sources, experiences, and knowledge with like-minded folks. I've lost count of the number of trips I've made to Ecuador, but I always look forward to going again.
Get Your Free Fund Your Life Overseas Report Here:
Sign up for IL's Fund Your Life Overseas e-letter today and we'll also send you a FREE report about ways to earn money abroad. Simply enter your email in the box below and we'll send you this free report: Fund Your New Life Overseas With These 6 Portable Careers.
Get Your Free Report Here