Marion Seaman first visited Roatán with friends in the early '80s, with no intention of making it her permanent home. She recalls that it wasn't long before Roatán worked its magic on her.
"A few months after I returned to the States, I walked away from everything, including the love of my life. I went to Roatán with only my suitcase, and a dream to spend my days wiggling my toes in the sand."
What may sound like reckless infatuation is easy to understand for anyone who has spent time on this small, Caribbean island off the coast of Honduras. The clear and normally ripple-free Caribbean Sea surrounds the stunning, jagged and jungle-covered landscape, which rises from the sea bed to over 1,000 feet. Deep ravines and narrow valleys are covered by lush, tropical forest where large macaws roost and tiny hummingbirds drink from a profusion of colorful flowers. The warm climate provides year-round temperatures normally in the mid-80s F, and few hurricanes disturb the nearly perfect weather.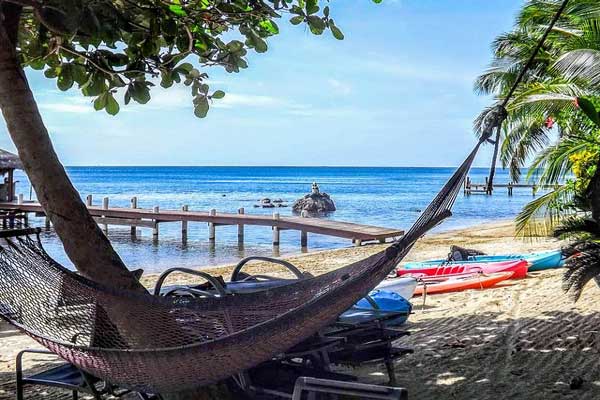 With an unfulfilled spirit of adventure, Marion soon found life on Roatán wasn't challenge enough: She moved to a neighboring, much more primitive Bay Island.
"Shortly after arriving in 1983, I left for Guanaja and stayed there for seven years. I finished out the lease on a bar and restaurant, and eventually wound up building small fiberglass boats in a hot old chicken house, finally finding my way back to Roatán," Marion says.
Marion felt she could now permanently anchor herself, and she began to build her own beautiful home on the island.
"I love my home. I built it back in 2003 and when I am there, I am totally immersed in nature. I literally live in a lush garden with a home in it. Lots of open spaces that seamlessly blend the indoors and the outdoors, year-round. It feels very private, and the beach is only a short walk away."
Marion's home is around 1,500 square feet, with an equal amount of space dedicated to terraces. She estimates the value of her home now to be around $500,000.
An energetic woman, she shows no signs of slowing down. And it seems like Roatán is providing ample opportunities for her active life.
"One week, you may find me styling a home for a photo shoot, and the next, wearing one of my many professional 'hats' that might include landscaper, caterer, film shoot fixer, event planner, interior decorator, jewelry designer, property manager… the list goes on," she says.
Marion's latest endeavor is a community education program to help reduce the use of single-use plastics (like straws and cups) in local bars, replacing them with glass or bamboo. She is co-founder of Roatán Recycle Now.
"Our oceans are becoming clogged with plastic and it is affecting our sea life and the health of our beautiful reef," she says.
Marion's life on Roatán costs her about $2,000 per month, as her home is now all paid for.
"I cannot say that life on the island has always been easy. But then, life anywhere is not always easy. As a single woman, I admit that there have been times when having a partner would have made things easier. But I have a nice group of friends, many of them also single women. The opportunities I've had, the people I've met, the life I've lived…I wouldn't trade it for anything."

Related Articles
A Retirement by the Water on Caribbean Roatan