I'm sitting on the beach in Hopkins Village in Belize—mimosa in hand—staring out over the turquoise waters of the Caribbean Sea trying to find the exact point where the clear blue sky meets the water.
This friendly village is the heart of the Garifuna culture in Belize and my home for the next couple of days. There isn't much on my to-do list…sunning, swimming, and a Garifuna drumming lesson with a local drummer. I'm halfway through an adventurous road trip around this captivating little country and taking a day or two to reflect on the experiences of the last few days.
Belize is a country full of diversity. Depending on your interests you can have the completely relaxed, tropical, seaside experience…or inland mountain adventures, visits to ancient Maya sites, and encounters with local wildlife.
My friend and I have chosen adventure. We rented a car and set out with a primitive map over bumpy and sometimes eroding roads in search of unpredictable adventures. We have tagged crocodiles with a conservationist group, collected shells along the shimmering white beaches, climbed to the top of ancient Maya temples, and hand-fed fruit to noisy, but nevertheless adorable, howler monkeys.
Along the way we've met native Belizeans and numerous expats who were more than happy to share their personal stories about life in this tropical paradise.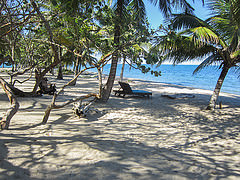 To many it would seem I'm on a dream vacation, but in reality, I'm working. I realize it doesn't look like work. There are no cubicles, office water coolers, or telephones lighting up with unwanted conference calls. But, I am a travel writer and that means I can work from anywhere I choose. And today, I have chosen this beach and I've traded in the office coffee for this tasty, sparkling mimosa.
Trips like this don't happen every day or even every year for most people. But, as a travel writer, trips like this happen to me many times each year. I'm not wealthy nor do I have a trust fund waiting for me. What I do have is a career that funds my travels.
A portion of my travel is funded by the destinations I visit which often offer free or reduced rate lodging, meals, and access to popular attractions. The other funding comes from the articles I write and sell to publications.
My few days in Belize have already brought in deals for article sales that will bring me over $1,200 in fees—and I'm only halfway through the trip. By utilizing the travel perks available and selling articles, I have managed to fund a life filled with travel.
So today as I sit here sipping my mimosa in the bright Caribbean sun, I am writing a draft of my experiences so far.
And tomorrow as I head toward the surrounding Maya Mountains to visit a jaguar preserve, I will be looking for more adventures and story ideas. I will pitch those ideas to publications, write the articles, and collect the funds that will send me off on my next adventure.
It's a good life…
Get Your Free Fund Your Life Overseas Report Here:
Sign up for IL's Fund Your Life Overseas e-letter today and we'll also send you a FREE report about ways to earn money abroad. Simply enter your email in the box below and we'll send you this free report: Fund Your New Life Overseas With These 6 Portable Careers.
Get Your Free Report Here