Every morning, Marc Sager enjoys his morning walk with his Catahoula dog, Asha. With temperatures between 60 F and 80 F, they enjoy taking their time exploring and greeting the neighbors. "Everyone you pass says hola or buenos dias. It's a friendly place," he says.
Marc and his wife, Karen, are retired high school teachers from Apple Valley, California. They moved to the Boquete region of Panama nearly two years ago.  This small river town offers plenty of opportunities to unwind from a hectic pace.
Marc says the pace of life has been the biggest adjustment for them. He points out that there's a "go, go, go" attitude in the U.S., but in Panama, "There's no rush to do anything. Here, the attitude is manana (sometime later)."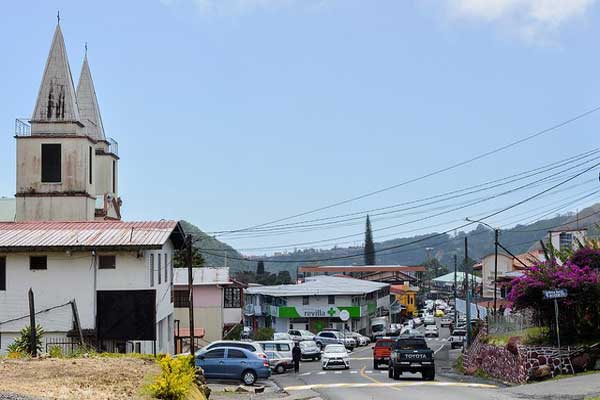 This slower pace of life extends all over Latin America, and the couple had already explored both Ecuador and Costa Rica as potential places to retire, before they settled on Panama after a few visits. "It just felt right," says Marc. Plus, they intend to travel around Latin America, and Panama is the ideal central location for that.
The couple opted to rent a two-bedroom house with a loft and a fenced-in yard, in a Panamanian neighborhood, for $800 a month. Electricity runs $30 to $35 a month, and water and trash costs are taken care of by the landlord. They have a car, to have the freedom to explore on their own. Their insurance runs about $600 a year, and this includes up to $10,000 liability in case of accidents.
Most days, Marc heads to the local markets, where he loads up on fruits and veggies for their evening meal. "There's a big supermarket, but I like visiting the local vendors. I can practice my Spanish…and they can practice their English," he says.
Not that it's necessary to know Spanish to move to Panama. "Boquete is a soft landing if you've never lived overseas before, because you can get by without speaking Spanish," he says.
The couple enjoy hiking a couple of times a week. The nearby Baru Volcano National Park and the Bajo Mono loop road offer plenty of opportunities for enjoying the fresh air and birdwatching. Marc keeps his eye out for some of the local varieties of birds, such as the flame-colored tanager, or if he's really lucky, the eye-catching quetzal, which features a turquoise coat. The colored tropical birds stand out against the lush green of the mountainous landscape.
Marc and Karen say that if you're considering moving abroad, the most important thing is to do your homework. Talk to others who have done it, to get a variety of viewpoints, as every person's experience is different. They also used an immigration attorney to make their transition easier.
Karen's other advice is embrace the unknown. "Life is an adventure…and you figure things out as you go," she says.
Related Articles
David vs. Boquete: Choose Your Panamanian Paradise
Most Popular Facts About Panama