Brittney Borjeson first went to Sayulita on Mexico's Pacific coast to learn how to surf. That was back in 2012, and as soon as the plane touched down, she felt like she had come home.
"I was hooked from my first wave. I remember thinking, I could give everything up for this," Brittney recalls.
Coming from New York, with its hectic pace, Brittney found the slower pace of Sayulita to be a complete contrast. The small fishing village has become popular with surfers and now has an artsy, bohemian culture.
At the time, she had worked in television production and real estate in New York. She thought nothing of checking her work emails at all hours, never really being "off work." She began to realize that the more she worked in New York, the more valuable she felt as a person. She was actually getting her self-esteem from her work.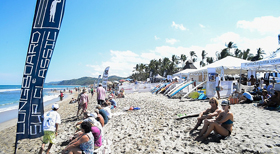 "In New York, what made a day valuable was being productive. In Mexico, I had to shift my mind to realize a day was still valuable if I was just experiencing…or existing…or being," she says.
So, one year after that first visit, Brittney decided to move permanently.
In Mexico, she became intrigued with the beaded jewelry crafts of the native Mexican tribe of Huichol people living near Sayulita, which inspired her to create something.
She had a local woman make up her designs and then opened her first store which she called, Evoke the Spirit.
The value system in Mexico was completely different from that of New York. "In Sayulita, it's no problem to close the store for an hour, hang up a 'Gone Surfing' sign, and go out and enjoy the waves," Brittney says.
Brittney tuned right into the surfing culture. "People in Sayulita don't pay attention to the weather or the news. They only want to know what the surf report is going to be. A tension develops in the air when there are no waves."
Brittney's biggest problem now is a good one. As soon as she gets products in her store, she sells out. But since everything is handmade, it's time-consuming and it's difficult to keep up with the demand.
"I would do the work I do today even if I wasn't getting paid," she says. "My favorite part is helping the artisans to create. I give them the money upfront which allows them to create incredible things. And, I offer them more money per item than they ask for. I am watching the artisans going back to the traditional ways of creating because I am able to offer them jobs."
The economy in Mexico is growing. Brittney's advice to anyone who is thinking of starting a business in Mexico is that getting set up will have its challenges, but for someone with a good business idea, the chance of succeeding is very high.
Get Your Free Fund Your Life Overseas Report Here:
Sign up for IL's Fund Your Life Overseas e-letter today and we'll also send you a FREE report about ways to earn money abroad. Simply enter your email in the box below and we'll send you this free report: Fund Your New Life Overseas With These 6 Portable Careers.
Get Your Free Report Here