The Serra Gaúcha region, in southern Brazil, is practically unknown abroad, but it's popular with Brazilians. They flock here to enjoy the temperate, highland climate, so different from much of mostly tropical Brazil. (Serra, in fact, means "highlands.")
They come for the year-round cultural events, the many ecotourism activities, and for the region's delicious food and wine—the country's budding wine industry is based here, and most of the food on your dinner plate is grown within a few miles of your table. There's excellent shopping, too.
All of which accounts for the region's tourist appeal. But it's a great choice for full- and part-time living, as well. The clean little towns have trim, attractive town squares and flowers in every yard.
There's an air of prosperity here, with new construction everywhere and cars that are newer and larger than elsewhere in Brazil. Locals are well-dressed and well-educated, and it seems like everyone has a new smartphone. You'll find plenty of English spoken, and locals who like to practice speaking it with you.
The towns in this region are so pleasant, livable, and familiar that, if the signs were in English, you could think you were in small-town USA. In fact, it's a place where, if you learned just a little bit of Portuguese, an expat could feel very much at home.
The Serra Gaúcha lies in the northeast part of Brazil's southernmost state, Rio Grande do Sul, which borders Argentina and Uruguay.
It's far enough south (29 degrees) and high enough (about 2,800 feet) to have four true seasons. Each winter the thermometer drops to freezing a few days. There is light snow some years.
The Serra Gaúcha has three regions: the eastern Gaúcha region, which is largely farmland and villages; the central, German-influenced region; and the Italian region in the west, which—no surprise—is home of the state's wine industry.
Vineyards and wineries cluster around the town of Bento Gonçalves.
I spent a lot of time in one in the German region in a town called Gramado.
Gramado is often described as "chic." Its economy today is based almost exclusively on tourism. But this town of 35,000 somehow manages to be unabashedly touristy without descending into kitsch. Rather, it's quite classy and upscale, a bit reminiscent of Asheville, North Carolina.
When you arrive, you pass through a German-style, ceremonial town gate, which welcomes you in several languages. The German heritage is also apparent in the architecture. Heavy beams and carved wooden eaves adorn the fronts of many businesses and homes. Flowerbeds are everywhere, continually reminding you why this area earned the nickname of the Região das Hortensias: the Hydrangea Region. The town is quite green and, most noticeably, organized and tidy.
A drawback to many small towns is that you quickly run through the limited activities available. But Gramado enjoys events throughout the year.
There are religious festivals around Easter. The region celebrates its heritage in the Origins of Gramado festivities in the first half of May. Themed festivals mark the wintertime, in June and July, which is the busiest tourist season. Brazilians from tropical climates flock to Gramado, dressed in layer upon layer of summer shirts, and hoping they will be lucky enough to see a dusting of snow on the sidewalks.
Gramado is pleasant even when there are no festivals. Although it's in the highlands, the town is fairly level and easily explored on foot. While it does get warm here, summertime highs rarely exceed 90° F, and temperatures plummet after sunset. I found the cool nights in the Serra a welcome break from Rio's heat and humidity.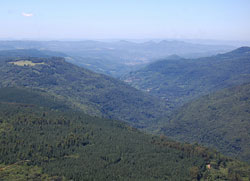 There's lot to enjoy here daily. Stop on the pedestrian plaza for a leisurely lunch and a locally produced beer at one of the many restaurants.
Or, if you'd like to enjoy a bit of nature, visit Lago Preto (Black Lake), which is located within the city limits. You can browse kiosks, bike, walk, picnic, or rent a paddleboat. Afterwards, cool off with some ice cream or another beer.
Above and beyond the "fun" stuff, Gramado is impressive. It's prosperous and has a solid infrastructure. Roads and parks are well maintained. The city sparkles. There are numerous banks (including an HSBC), and you can find anything you need in the shops here.
Health care needn't be a concern. The local hospital has 80 beds, and there are 15 government clinics in the municipality.
All medical specialties are represented here. Brazil has a public health care system, which is free to residents. Foreign visitors and part-time residents may also use the public services for emergencies and for routine services. Private insurance plans are also available. If paying cash, an office visit with a private practitioner will run about $65.
Get Your Free Brazil Report Here:
Learn more about Brazil and other countries in our daily postcard e-letter.
Simply enter your email address below and we'll send you a FREE REPORT– The World's Best Beachfront at an Affordable Price in Brazil.
This special guide covers real estate, retirement and more in Brazil and is yours free when you sign up for our postcards below.
Get Your Free Report Here