Earlier this week, I dropped an urgent email to Real Estate Trend Alert members.
A hot deal had crossed my desk. One they needed to get eyeballs on straight away. For the right buyer, it would mean potential gains in the tens of thousands.
The opportunity was to pick up a four-bedroom penthouse in El Poblado, Medellín's top neighborhood for $150,000—or around $60 a square foot.
Average prices for the El Poblado neighborhood are in the region of $150 per square foot. But as the crisis bites we are finding more motivated sellers…like the owner of this penthouse… And because Colombia's currency has tanked, our dollar stretches that much further.
Since the crisis began, deals like this have been coming down the pipeline thick and fast. They're "blink and you'll miss it" kind of opportunities. As soon as they become available they're scooped up by savvy investors with a nose for profit.
That's why being a RETA member in good standing is a huge benefit.
It means you'll never miss a RETA deal…investment recommendation…or urgent market insight from across my beat.
And for 48 hours only, I'm offering you our best-ever opportunity to do that…
It's a chance to upgrade to RETA Membership and lock-in your insider status for the best-value we've ever put on the table. And you can do it right here, now. (If you're already a Member, no action is required.)
I know how frustrating it is to miss out on the deal of a lifetime. That's why I've created this "set-it-and-forget-it" offer. It cuts out your annual renewal. It cuts out lost opportunities. And it means that you're always paying the best rate possible for membership.
In the coming weeks, months, and in some cases, years, the economic shock of the COVID-19 crisis will be churning out deals at a frequency we haven't seen before.
Motivated sellers are on the rise…currency fluctuations are playing into our hands…and we've got a web of connections to draw from.
In the next few weeks alone, I expect to bring members deals from Medellín for under $100,000. Again, we'll be looking at condos we can buy in the $60 to $80 per square foot range.
In Argentina, which is on course for a technical default on its government borrowing, I'll be using this moment to lock down primo lots in an exclusive golf and vineyard community for under $20,000.
I'll also be returning to Panama, where with the help of discounts from a Panama government program, we can secure two-bedroom condos steps from the beach for $139,000. As a global hub and a regional powerhouse, Panama has major economic resilience. Once the dust settles from the COVID-19 crisis, it will be back to the races. Real estate prices will continue to converge with other international hub cities. But in the short-term we have a window to grab our piece of the pie.
Many of you have been emailing in about our next shot at Cabo San Lucas… Well, you'll see it soon. I'm finalizing a deal on two-bedroom condos in a stunning community with incredible views of Cabo and the Sea of Cortez and RETA-only pricing of $200,000. I didn't think we'd see prices like this in Cabo again. Over the past few years, the town has undergone a huge transformation after being hit by $4 billion in investment. The rich have flooded in. And real estate values have surged.
And we'll be back in the Riviera Maya on Mexico's Caribbean coast… Like Panama, nothing has changed in my analysis here. As a destination that attracts millions of visitors each year, it's a solid long-term play. And when this crisis is over, it will be a hot spot for the masses of people discovering remote working for the first time. Right now, I'm taking this opportunity to negotiate heavy discounts for RETA. You'll likely see two-bedroom, two-bathroom condos from just $150,000.
It's early days, but I'm also looking at two-bedroom condos in Puerto Vallarta. They're a short stroll from the town's marina and going for a song.
From Eastern Algarve, Portugal, I'm bringing members a chance to scoop up undervalued condos that have ended up on the books of a Portuguese bank. They're looking to offload and we can be first in line.
I'm also narrowing in on ocean-view lots in Nicaragua from $30,000…condos in Rome from $150,000…and Tuscan fixer-uppers for just $50,000.
It bears repeating: if you don't want to miss a single deal, upgrade to become a Member of Real Estate Trend Alert today.
Like I say, some of these opportunities happen lightning-fast. I get them to RETA members as quickly as possible—before some other savvy investor snaps them up. But what I'm offering today ensures than you never miss a single one.
Yes, there's a lot of distractions right now. We've entered scary times. But take the right steps today and you'll be setting yourself up for a richer retirement than you ever imagined.
The journey starts here. Get ready…
Connect with Ronan on Instagram  or Facebook 
Get Your Free Real Estate Report Now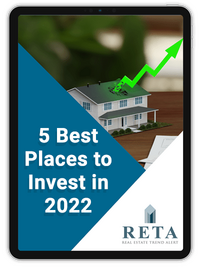 Sign up for our free daily Postcard e-letter and get a valuable free report on the The 5 Best Places to Buy Real Estate In 2022.
Related Articles
The 10 Best Places to Invest in Real Estate
Think the Game is Rigged Against You? It's Worse Than You Think