I'm a four-season guy.
Do I love warm weather and wading in crystal-blue water with a cold beer? Yes, I do. And I like spending a chunk of winter in the "eternal summer" of the tropics, clad in short-sleeved shirts and flip flops. 
But my internal clock is set to spring, summer, fall, and winter. And today a swirl of leaves at the door means one thing: Time to start thinking about "where to" for International Living scouts in 2017.
It might seem like I'm jumping the gun. I mean, it's only September. And IL Correspondents are still taking trips planned for 2016.
Wendy DeChambeau is on a countdown to Bolivia. She's taking her husband David as a second pair of eyes. Wendy and David own a home in the Ecuadorian highland town of Cotacachi and they farm 75 acres of fertile land of Ecuador's Intag Valley, too. This means they have good context, and I'm excited to see what they make of places in Bolivia like cool-weather Tarija…and if they find any good homesteading options.
Next month IL Colombia Correspondent, Nancy Kiernan, leaves her home in Medellin for the cobbled streets of colonial Santa Marta on Colombia's Caribbean coast. It's one of her favorite destinations in the country, she's a real champion for that historic port and is well connected there.
But what about 2017?
I believe it's vital to kick start the ground work early. To revisit the "grand plan" and get on the phone with our correspondents, editors, and everyone else who contributes to International Living from retirement havens the world over.
The secret to selecting where to explore is all about who we talk to.
IL relies on trusted people. People like Don Murray, an IL reader who retired from Florida in 2012, spent two years on the coast in Ecuador, moved to Mexico's Riviera Maya, and has since scouted the country for International Living, making connections, getting the inside scoop, and reporting back across our whole stable of publications and resources.
People like IL Roving Latin America Editor, Jason Holland, another IL reader, who moved with his family to Costa Rica, explored every lush valley and sandy beach in the country before moving on to Mexico, and has taken scouting trips to Belize, Nicaragua, and Peru…
People like former nurse Wendy Justice who lives in Hanoi, Vietnam, and has explored just about every corner of Southeast Asia with her husband David. (She's just finished up uncovering how you can enjoy the ultra-modern glitz of Singapore part-time for $1,829 a month.)
I won't go on and on… Suffice to say I have a lot of folks to consult.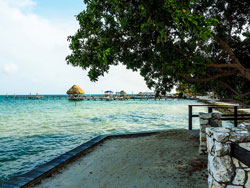 IL Editors Dan Prescher, Suzan Haskins, Glynna Prentice, and Jessica Ramesch will all join me for a round-table catch up this month. They are coming from Ecuador, Panama, Costa Rica… I'll be on the phone with Steve King in Cambodia, Steve LePoidevin who's just made his home in Peru's White City, and Ann Kuffner and I will speak about where she should go in Belize. (I'm thinking the Cayo sounds interesting, and Corozal is one of the best-value Caribbean propositions I know of.)
I trust our guys. Many of them were IL readers long before they moved overseas. That's why I trust them. They know what you're looking for. They understand. They are farther on their journey overseas, sure, but that's why they are ideally placed to advise you, scout for you, and discover new destinations especially for you.
And as they scout new places, they meet people. They grow the IL inner circle. Right now, that special group is bigger than it's ever been before. This time next year I fully expect it to be even bigger again.
From-the-ground, real-time intelligence cannot be beaten. No internet search engine can do the job of a person on the ground who's a dedicated champion to the cause of living better for less and having fun while you do it.
I have started making the 2017 trip list of destinations new and old…the gold town of Zamora in Ecuador…Peru's northern coast where I hear tell of real estate opportunities…the immaculate colonial city of Popayan in Colombia…the islands of Greece…a Caribbean beach where expats report living costs of as little as $2,000 a month (including rent)…a special part of Italy that's emerging as the country's hot new destination for bargain-hunters…a corner of France where romance meets low costs…a tear-dropped-shaped island in the Indian Ocean with exciting possibilities for adventurers…
And like I say, that's just the start.
Get Your Free Report on the World's Best Places to Retire:
Learn more about the best places in the world to retire in our daily postcard e-letter.
Simply enter your email address below to sign up for our free daily postcards and we'll also send you a FREE report on The World's Top 10 Retirement Havens.
Get Your Free Report Here