What's so special about Mr Chan's snow beers…?
I wanted to know. So, from my guesthouse on Concubine Lane, I strolled the few blocks to Mr Chan's.
It turned out Mr Chan's was just pouring cold beer into frozen glasses and serving it up in the sweltering dusk.
When it hits the glass, the beer turns to icy foam.
So I took a seat and licked the frost.
Grouped around me on garden furniture were the youth of Ipoh.
Ipoh, in central Malaysia, was once the richest town in Southeast Asia. A tin town, a boom town for Chinese miners from the 1880s to the roaring twenties.
Pan handlers, swindlers, shovel sellers, and prostitutes all came to live on the banks of the Kinta River. Dotted around town today are the monstrous relics…huge dredging machines rusting and clad in tropical foliage.
The money is gone but the town remains. A sleepy old burgh with nothing much to do but watch the fireflies dance on the banks of the Kinta—a languid muddy flow—and sip on frozen beer. (I am told the place is famed for its beansprouts but there's only so much excitement a man can take…)
So, why was I in Ipoh?
It's location for a start. Ipoh is about half-way between the Malaysian capital, Kuala Lumpur, and the colonial wonders of Penang. It's also a gateway to the Cameron Highlands where British colonials once escaped the heat with afternoon tea in mock-Tudor mansions. Then there are cave temples and glorious scenery…
So a small but steady flow of tourists could be expected to pass through. And I wondered if there was an opportunity.
Malaysia is the only country in Southeast Asia where foreigners can buy freehold.
And I'm a big fan of shophouses…
I first discovered shophouses on an extended trip to Penang—a large island in the Andaman Sea and a premier expat haven.
The colonial quarter of the capital, Georgetown, is full of them. Shophouses were designed to be narrow at the front but very deep, going way back. The point was to accommodate as many street-facing businesses as possible. They usually have a veranda where goods would have been displayed. Courtyards in the interior helped air flow though the building.
I knew Ipoh had an old town, some of it restored, but the internet was scant on details. So I took a trip…and there I was drinking snow beer.
The real estate I viewed wasn't super exciting but I did come across a "ghost bargain."
That's what I call them anyway.
In the heart of town, on the busiest square, I found a large property completely abandoned. Commerce was all around. Every other building occupied. When I asked my contact why this one was almost derelict I was told that a woman had been hit by a bus outside the house…so no one wanted it.
Ghost bargains are common enough in China and Southeast Asia. I first came across this phenomenon in Penang.
On Armenian Street in the heart of the gentrified old town was an abandoned but fine-looking colonial-era house.
I was told this short and simple story…
When the Japanese occupied Penang in 1941 the man who owned this house became a collaborator. And when the Japanese were defeated this man was executed. So no local wanted anything to do with the house.
Bad juju. Or in this case, feng shui.
Feng Shui is serious business in Chinese culture. So much so that entire neighborhoods can be considered a bad buy by believers and some city authorities will pay out compensation for anyone whose qi (energy) is affected by municipal construction.
Honestly, I am not clear on how ghosts and feng shui fit together…I know it's all about energy and harmonizing people with their environment.
I think the point is to retain as much positive energy as possible. Apparently water helps. It holds on to qi so I guess having a pool or being oceanfront is good. But then, that's a selling point in any culture.
I've heard that a property can be viewed like the human body. The middle of the house is a heart, so you wouldn't want your bathroom there.
I know that the developer of a luxury apartment building in London hired a feng shui master when designing it because he wanted to market to wealthy Chinese.
And here's a weird one; I've come across a real estate agency in Hong Kong that specializes in tracking tragic events. I'm not sure they still do, but their team combed through the local news reports and death notices. You could search for haunted houses.
The Chinese may fear ghosts but many of the foreign residents of Hong Kong will snap up a bargain…especially as it's among the world's most expensive real estate markets. And that's despite the recent protests. (Article on that here.)
On my travels I've heard stories of unscrupulous real estate agents making up tales of ghosts. Earlier this year a real estate company sued a social media account which claimed one of their office buildings was "attracting negative energy" and that the buildings' layout was "inauspicious."
With Chinese buyers flooding into global real estate markets in recent years, it's worth understanding what motivates and moves them as buyers…and as sellers.
I haven't even mentioned lucky numbers. That's a whole other thing.
Bottom-line, as a global real estate investor it pays to know your market. When it's time to exit an investment, knowing the nuances of your buyer's culture could be key to maximizing your returns.
Get Your Free Real Estate Report Now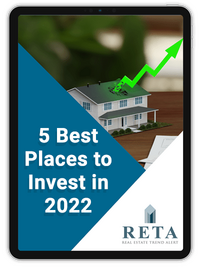 Sign up for our free daily Postcard e-letter and get a valuable free report on the The 5 Best Places to Buy Real Estate In 2022.
Related Articles
Upcoming Conferences
Live Better, Spend Less, Retire Sooner
IL's Retire Overseas Bootcamp
October 21-23, 2022 in Atlanta, GA

In safe, warm, welcoming communities abroad, as little as $1,700 a month can bankroll a good life... this fall, our experts will show you where—and how.
Early Bird DISCOUNT—Save $200 When You Register by Sep. 29
Details Here IL's Retire Overseas Bootcamp
---
Registration Now Open for the Best of Europe Private Screening

In the Right Spots in Europe, You Can Retire in Style—in an Historic, Sun-Drenched Locale—for as Little as $2,300 a Month or Less—Especially Now With the Dollar and Euro at Parity for the First Time in Two Decades.
And We'll Show You How, October 1-2, During the Special All-Online Best of Europe Private Screening.
---
The Income Revolution Forum
What if You Had the Freedom to Enjoy the Good Life Anywhere in the World You Wanted to Be...and Get Paid While You're There?
We'll show you how—with hands-on guidance—you could beat inflation...secure your retirement...ditch your commute...and turn a skill you already have into a portable side income of $300, $600, even $3,000 or more a month.