"So why did you move to Brazil?"
Without a doubt, this is the question I hear most these days, whether from Brazilians, foreigners here in Rio, or Americans when I visit back home.
My love affair with Brazil dates back to 1993, when I first visited here.
I was living in Charlotte, North Carolina. One day at my gym I met my now good friend Junior Botelho. He told me that he was from Brazil. In one of life's little coincidences, I'd just read a lengthy article in National Geographic about Brazil.
I was curious to know more. How was it that there could be this huge country (fifth largest in area in the world), and yet no one—including myself—seemed to know much about it?
I began hanging out with Junior, listening to him talk about his home in Vila Velha, an hour's flight north of Rio. Although he and his wife Simone had lived in the U.S. for four years, saving money to open a business, it was clear that they intended to return to Brazil.
One day about six months later, Junior announced his intention to do just that. And, by the way, would I like to visit Brazil, with him and Simone as my guides?
"Absolutely!" I replied.
In the next few weeks, I applied for my visa, read up on Brazil, and tried to learn a bit of Portuguese. Soon the Big Day arrived. I met Junior and Simone at Charlotte Douglas International Airport. In true Brazilian fashion they arrived burdened with bags of gifts after boarding had already begun!
The overnight flight was uneventful. We arrived in Rio and, after a short layover, continued on to Vitória, the capital of Espiritu Santo, the state lying to the north of Rio.
At the airport we were met by Junior's father, who greeted me graciously. I was swept along in the bustle and the baggage, and within minutes we were driving across the bridge to Vila Velha on the mainland.
Upon our arrival at the family home, I met Junior's mother, his brothers, Simone's parents and siblings, and approximately 87 other friends, uncles, aunts, and cousins once, twice, and more removed. I did my best to mingle, with my mediocre Spanish and my few words of Portuguese. But in true Brazilian fashion, everyone, without exception, tried to engage with me and make me feel at home.
We gathered behind the house on the patio, where Junior's father and older brother tended the brick grill, churning out plates of churrasco, grilled steak liberally sprinkled with salt. Antarctica beer flowed freely. Food, beer, conversation, and laughter continued until the wee hours. I fell into bed that night tired, my head spinning from overload—yet oddly content.
In the next few days I explored the area, which is, in a word, lovely. The sky is expansive. Granite cones pepper the landscape, often leading down into the sea. Ah, the sea! I grew up inland, hours from any sizable body of water. Now I was face to face with the sprawling South Atlantic. I took a deep breath of some of the cleanest air on the planet, watching the waves roll in.
Junior and I waded out chest deep. He showed me how to size up the waves. We spent an hour jumping side first through the gentle rollers, diving under the big waves, and occasionally catching a long wave just right and body surfing back into the shallows.
It was glorious. And I was smitten. The natural beauty of Brazil can be incredibly seductive. Ask anyone who's been here.
But I loved the culture as well. Women sang softly as they swept the front walk each morning. Young schoolgirls walked hand in hand on their way home. Men would take a minute to chat animatedly with an acquaintance met on the street.
It was all so charming, in a low-key, natural way.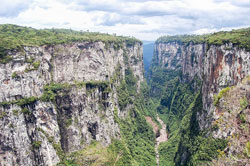 Note that at that time inflation was running at 30% per MONTH. People were showing up at the house simply because they had heard a gringo was staying and they wanted desperately to exchange cruzeiros for hard American dollars. [These days, Brazil's economy continues to grow and strengthen.]
And yet, despite these trying times, people shared freely of what they had. And in the evenings, there was always time and money enough to meet friends at the corner boteco for an estupidamente gelada cerveja ("stupidly icy beer"). Beer here comes in 600-milliliter bottles which are shared, poured into small glasses all around. I found—and still find—this practice so much more convivial than each person having his own bottle.
I knew from that first visit that one day I would move to Brazil. It took some years to make that happen, but I've been living here now since late 2008. While it hasn't always been easy (is life ever?), I've never regretted my decision to move here, and never thought about moving back to the States. It's an option of course, but these days I view Brazil as my home. Simply put, overall I am happier here.
And when people ask me, "So why did you move to Brazil?" I always answer:
"Because of her nature and her people."
Free Brazil Report:
Learn more about Brazil and other countries in our daily postcard e-letter.
Simply enter your email address below and we'll send you a FREE REPORT– The World's Best Beachfront at an Affordable Price in Brazil.
This special guide covers real estate, retirement and more in Brazil and is yours free when you sign up for our postcards below.
Get Your Free Report Here