If you've never heard of Caye Caulker, it's a very small island near Belize City, in the Gulf of Mexico. A haven for divers and snorkellers due to its proximity to the Barrier Reef, you can actually see the waves breaking on the reef on the horizon. A feast for the eyes, this small island offers stunning views, tropical sea life, snorkeling, and diving excursions and a "go slow" attitude that will charm you into staying.
With direct flights from more and more major airports to Belize City, you're not that far from the rest of the world. A cab ride to the water taxi dock with a friendly local driver who's interested in where you're from and extolling the merits of his country, a cold Belikin beer while you watch your bags get loaded onto the boat, and then an exhilarating 30-minute ride bouncing over the waves while reveling in the salty spray, you arrive at your destination—a quaint, colorful island dotted with pastel houses and hotels, dive shops, restaurants, and bars.
First you see the north part of the island. You coast by the Split, where Hurricane Hattie divided the island and where locals and tourists gather to swim, sun, eat, and drink… then you ease into the south part of the island, where all the action is. This is where you disembark the water taxi and begin your tropical adventure. Friendly golf-cart taxi drivers are eager to whisk you off to your new home. Or, if you are staying right downtown, you can simply walk along the beach to your destination.
And what do you do from day to day? For me, it was enjoying breakfast and coffee in the morning, either at my apartment or one of the coffee shops or restaurants—where you can have traditional Belizean breakfast or splurge on cappuccino or latte just like home. Then I would saunter down to the Split to read and lie in the sun, enjoying watching the locals fish off the dock and the eagle rays soaring out of the water, jumping in to cool off when needed.
When the tourists started showing up, it was back to my apartment for lunch and chilling out, buying some groceries, maybe a nap … and then evenings filled with music at the sports bar, dancing and enjoying inexpensive local drinks, a fresh fish or lobster dinner, and great times with new friends. It's easy to meet people—locals, tourists, and expats are laid back and open to chat. You have your choice of great meals at many establishments, or you can eat on the beach where Belizeans are cooking meals on open grills. The island also hosts a bank, pharmacies, medical clinic, library, hardware store…
And when you want a bit of a change, hop on the water taxi to the larger island of Ambergris Caye (the subject of Madonna's song "La Isla Bonita") for more shopping and restaurants in San Pedro, larger resorts, and markets. You'll find local crafts and artwork and even a chocolate factory for lovely treats. The larger excursions, like to the famous Black Hole, depart from here. Of course, Belize City is also just a water taxi ride away, with museums, more stores, and everything you need. The Belize Zoo is worth a visit—from colorful toucans to magnificent jaguars, not to mention the eerie moans of the howler monkeys. It will be a day you will never forget. You can hop a bus from Belize City to anywhere in the country.
Is it safe? Like many places, use common sense and you should be ok. I traveled alone and was fine—I learned to be friendly and confident, not to show any excess (i.e. leave your good jewelry and designer duds at home) and not to wander around at night… and all was well. Do your homework before you go, consult social media forums and pick up useful advice. Remember, English is the official language, which makes life easy.
You will find many Canadians and Americans living on Caye Caulker—some who have purchased properties and others who come back every year to rent. You can fit into the community fairly quickly and easily, and soon feel like you're home. But here's a warning: you might love it so much you'll want to purchase a property and stay.
Get Your Free Real Estate Report Now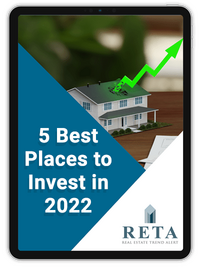 Sign up for our free daily Postcard e-letter and get a valuable free report on the The 5 Best Places to Buy Real Estate In 2022.
Related Articles
Five Places to Live in Belize; Two to Avoid
Upcoming Conferences
Live Better, Spend Less, Retire Sooner
IL's Retire Overseas Bootcamp
October 21-23, 2022 in Atlanta, GA

In safe, warm, welcoming communities abroad, as little as $1,700 a month can bankroll a good life... this fall, our experts will show you where—and how.
Early Bird DISCOUNT—Save $100 When You Register by Sep. 29
Details Here IL's Retire Overseas Bootcamp
---
Registration Now Open for the Best of Europe Private Screening

In the Right Spots in Europe, You Can Retire in Style—in an Historic, Sun-Drenched Locale—for as Little as $2,300 a Month or Less—Especially Now With the Dollar and Euro at Parity for the First Time in Two Decades.
And We'll Show You How, October 1-2, During the Special All-Online Best of Europe Private Screening.
---
The Income Revolution Forum
What if You Had the Freedom to Enjoy the Good Life Anywhere in the World You Wanted to Be...and Get Paid While You're There?
We'll show you how—with hands-on guidance—you could beat inflation...secure your retirement...ditch your commute...and turn a skill you already have into a portable side income of $300, $600, even $3,000 or more a month.