When Harry and Barbara Jones were planning their retirement abroad, they had several countries in mind based on their research: Panama, Costa Rica, Belize, and Ecuador.
They scouted Costa Rica first because years ago they had been on a cruise and were impressed with the country. After that first trip, they never made it anywhere else. The warm and friendly people, the low cost of living, and the natural beauty sold them.
The couple, from Charlotte, North Carolina, at first looked at property on the beach but weren't fans of the heat and humidity. So they headed inland and up into the mountains of the Central Valley, specifically the town of Grecia.
Set among coffee plantations and sugarcane fields, it's a good-sized town with all the modern conveniences. Once you get into the small villages on the hills above the town center, you find very quiet neighborly communities. It's not a tourist area—but still it's only about an hour from the medical care and conveniences of Costa Rica's capital, San José, and just a half-hour from the international airport. Those were big factors in their choice, says Barbara, 63.
So was the climate of the Central Valley.
"I would have to say it's one of the best parts of living up here. If it gets into the mid-80s F, it's warm," says Harry, 66, who adds that it can get quite cool at night.
The Jones' settled there a little more than a year ago. They bought a small house first as a home-base for exploring the area. And they recently closed on their dream home high up on a ridge (elevation around 4,500 feet) overlooking the surrounding countryside. They plan to move after making some improvements.
"We went to a New Year's Eve party in that area, and we saw the view. We said, 'This is what we want,'" explains Barbara.
"It's spectacular…a gorgeous view…almost 180 degrees," says Harry.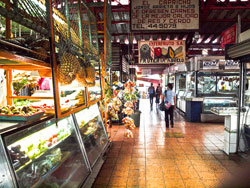 The couple has adjusted well to life in Costa Rica. By eating out and shopping like locals, they've cut their monthly budget down to between $1,500 and $1,700. And their diet is much improved. Harry has lost 30 pounds, and Barbara has discovered the joys of home cooking and making things from scratch.
"We eat better than we ever did back home," says Barbara. They shop at the local feria, or weekly farmers' market, for fresh fruits and vegetables and they always flag down the "fish truck," Barbara says, when it passes by their home to snatch up corvina, shrimp, and other fresh-caught seafood.
As residents in the pensionado (retiree) program, they've used the universal health care system known as Caja for which they pay a monthly fee based on income. After that their care is free.
"We use a private doctor for primary care. He speaks English and writes prescriptions through Caja. We've both had EKGs and I had a mammogram at the Caja hospital in Grecia," says Barbara, who also had a root canal and crown done for $250 at a local dentist.
They also have an active social life. There are plenty of expats in Grecia. One restaurant hosts a "gringo night" on Thursday night; another on Friday.
"Our social life is a lot busier than it ever was in the States. The expats here are so friendly," says Barbara.
Life is good. Looking back on the whole experience, they have just one regret…
"I wish we had done it sooner," says Harry.

Get Your Free Costa Rica Report Here:

Learn more about Costa Rica and other countries in our daily postcard e-letter. Simply enter your email address below and we'll send you a FREE REPORT – Why Are Americans Still Flocking to Costa Rica. 
This special guide covers real estate, retirement and more in Costa Rica and is yours free when you sign up for our IL postcards below.
Get Your Free Report Here