When Rebecca Eichler, and her husband, Paul Carlino, got to San Miguel de Allende, Mexico, with their two kids, they were ready for a break from their hectic lives working as lawyers in Washington, D.C.
The family had scouted far and wide for just the right destination, traveling by VW camper van through Mexico and Central America, all the way down to Panama. But San Miguel ultimately won out because it made for a relatively easy move.
However, even if their move had cut their living costs dramatically, they weren't ready to quit working. Since arriving in the Colonial Highlands city in the mountains of central Mexico just over one year ago, Rebecca has started several small businesses that have provided an opportunity to immerse herself in the community, engage her passions, and make a profit while she's at it.
Importantly, Rebecca and her family have plenty of time for enjoying life in San Miguel, which is known for its historic architecture, artistic atmosphere, festivals, centuries-old traditions, top-notch restaurant scene, and active expat community.
"I love it here because there's so much to do…so much culture," says Rebecca, who also notes other benefits of the UNESCO World Heritage site. "Friendships come easy here. We seem to all have the same values. And the weather is perfect. It's like spring and fall all year. No humidity. In D.C. it was either hot and sticky in summer or cold and wet in winter.
"And here it's cheaper than the States. We don't think twice about going out. Most things we do don't give us pause, cost-wise."
"Coming from cosmopolitan D.C., we appreciated that San Miguel has such great variety, such as a Middle Eastern restaurant, Japanese restaurants… I joke that this is the only place south of the border that has good bread and cheese," says Rebecca.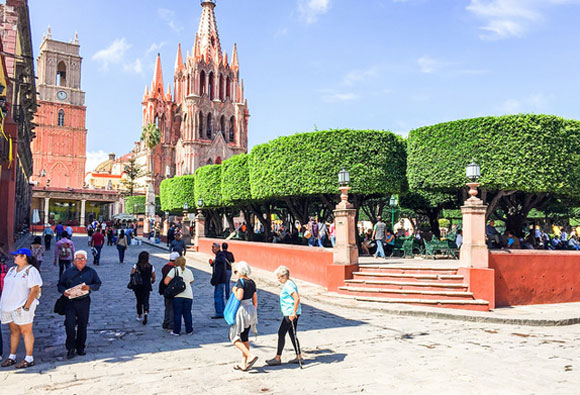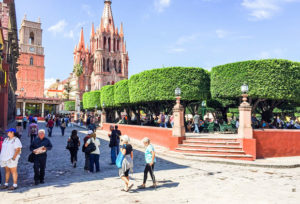 Caption: San Miguel's old colonial quarter is filled with hip cocktail bars, trendy barbershops, craft breweries, and sushi restaurants.
Rebecca's most recent venture is Language Adventure Pros LLC. Created with her business partner, Ginger Bandoni, they organize conferences for lawyers from the U.S. to learn "legal" Spanish to more effectively communicate with Spanish-speaking clients. It gels perfectly with her previous career as a nonprofit organization lawyer working with immigrants.
The first conference, set for March, has already sold out at 11 students. And they're almost sold out for the second session. They're thinking about scheduling a third for the fall thanks to the tremendous response. They're already making a profit.
"I had this idea over the summer. I realized I like working for myself, but not by myself. I needed a partner," says Rebecca. Ginger, a veteran teacher who organizes language retreats, was the perfect fit. "I feel like my career has led up to this. We showed up here with no clue what we would do and it all fell into place."
Rebecca also makes kombucha—a fermented tea that is said to have health benefits—from her home and sells it to a local clientele. She makes three or four batches per month, with flavors like lemon ginger, strawberry mint, and mango guava—"Whatever is at the market," she says. Each batch earns her 400 pesos ($20).
"I do it for fun. It's easy. I could never sell it in the States because of all the rules, and who in the States would respond to an ad on Facebook and pick it up at my house?" notes Rebecca, who also sells homemade lotion.
The couple believe in having multiple streams of income. Paul is writing freelance magazine articles. The family home in Alexandria, Virginia, is being rented out at a profit. And they've been renting out a rooftop apartment in their San Miguel home on Airbnb.
It's all made it possible for the family to have a great life in Mexico.
Need a Way to Fund a New, Better Life?

Join our Savvy Retiree Daily e-letter today and you'll hear from us daily, telling you about ways you can gain the freedom to live where you want, travel when you like and create a life you love. We'll also send you a FREE Report Fund A New, Better Life With These 6 Portable Careers...
Related Articles
This Expat Created Their Dream Income in Mazatlán, Mexico
Starting Your Own Business In Mexico
Giving Up The Corporate World For An Easygoing Life In Mexico