Many travel guides and forums tell you not to travel in Italy in summer. I disagree. Summertime is a great time to be here. Everything ramps up, and while it's hot, like anywhere in summer, the rewards make up for it. Plus, the cool-down options are plentiful.
City Fun
It's true that many Italians take their holidays in August. But while many businesses and offices close for much of the month, just as many stay open, and the cities tend to have a bit more breathing room with so many people off on vacation.
I love visiting Rome in the summer because despite the heat, there are many concerts and fun events, and museums have longer opening hours. Opera in the ancient Baths of Caracalla, cinema under the stars on Tiber Island, visits to the Colosseum by night, and a dinner cruise on the river are just a few of the offerings in the Eternal City.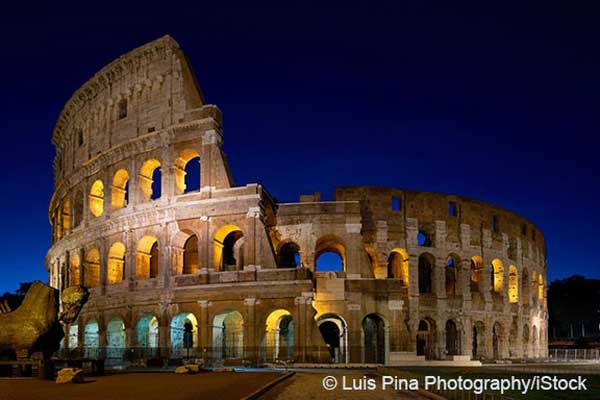 In fact, it's like that in most cities around the country. There are loads of events and concerts, dances, food festivals, street fairs, and traditional Palio (horse racing) events to enjoy. We particularly love the sagras—town festivals where the focus is on the specialty food they serve. You can eat well (and cheaply!) and enjoy a convivial atmosphere that is usually accompanied by music and dancing. You'll find something special to do nearly every day of the week.
Even the smallest of towns, like Basilicata where my husband Bryan and I live, organizes summer entertainment. Some are down-home types of activities for the residents to get out and socialize, while others are full-on big-deal events that tourists miss out on, because these festas aren't publicized outside the immediate area.
Beach resort towns go into overdrive and keep things hopping late into the night. There are dance nights on the beach, parties in the piazzas, arts and crafts expos, concerts and more. You won't get much sleep, but you'll have a great time!
The Seaside and Other Water Attractions
The time to enjoy the beach is from June through September, but it's particularly appreciated in July and August, when temperatures rise and the sea water gives blessed relief.
The serviced beaches are so pretty with their ordered rows of umbrellas exuding that sophisticated Riviera ambience, and you can reserve your spot in advance. Of course, August is prime high season, when many Italians and tourists alike vie for space on the sand, and it can get crowded. There are lots of less-known places though, that don't attract quite the same throngs.
Our way of getting away from the herd is to rent kayaks and paddle to a hidden cove where we can bask in tranquil splendor. You can also rent a small boat for the same purpose. The beauty is that each seaside destination is unique. We can go to the soft sandy expanses on the Ionian Sea for a day and then head over to the coves on the Mediterranean the next if we want, so we never get bored of the coastal options.
Don't overlook the other water options, though. There are lakes around the country, with the most famous being the northern Alpine lakes (Lake Como, Lake Maggiore, and Lake Garda), but each region has some nice laghi and hidden water holes to enjoy. When we lived in Ascoli Piceno, for example, we liked lounging in cool water on the Castellano River, taking a book and basking in the little eddies of the stream.
Here in Basilicata, there are some beautiful waterfalls that cascade cool mountain water down into ponds. North of Rome, Lake Bracciano and Lake Bolsena, where you can enjoy a stand-up paddle board or the freshwater beaches that dot the shores, are great alternatives to the packed beaches closer to the city.
Culinary Cool-Downs
When the temperatures go up, the food offerings change to help beat the heat. Creamy mozzarella di bufala layered with juicy ripe tomatoes makes a Caprese salad. Other offerings include shavings of prosciutto laced around melon or figs; cold pasta tossed with a bounty of fresh summer veggies; and abundant fish cooked in a myriad of delectable ways. All make me thankful for summer.
Oh, and the drinks. Chilled wine with peaches, vibrant Aperol spritz, slushy fruit granita, and icy Italian beer all hit the spot. Then there's creamy gelato, which is a heavenly food group unto itself.
Here in Italy, each season has its joys, but my vote goes to summer for its vibe, fun, and activities that really do exude the sense of la dolce vita.
Related Articles
5 Things Expats Say About Moving Abroad That Will Surprise You
Three Cities to Savor When Exploring Authentic Italy
5 Places in Europe Where You Can Retire on $35,000 a Year