It's a good time to be in Belize.
I'm on the beach, in the shade of a palm tree with fronds swaying in the breeze, looking out over azure water. In front of me is a Caribbean lobster, fresh off a grill made of an old propane tank and welded together Rebar for the legs. The lobster is just right. Eric, the dreadlocked grill man, has been doing this for years. Sides of rice and beans cooked in coconut milk and a mellow cabbage and carrot coleslaw complete the package.
I ask for a little hot sauce and Eric sends a local kid home to pick up a jar of spicy green goodness. It's homemade—habaneros, I think; powerfully spicy but flavorful. A little in the rice and slaw (none in the succulent lobster, of course) and this meal is perfect for me. I have a cold Belikin beer ($2 at the little market across the sandy lane) to cool things down if need be.
I'm on Caye Caulker, a tiny island off the coast of Belize, in the Caribbean.
It's a center for scuba diving and snorkeling…or just lazing away the day sunbathing on a dock extending over clear blue water. The soundtrack is reggae and punta rock, the homegrown music of the country. It's pumping out of beat-up boom boxes set up on the stalls selling local handicrafts along the "main drag" on the water and from big speakers in the bustling beach bars.
You won't find any cars here; just golf carts (not too many, news licenses aren't given out that freely by the local government) and beach cruiser bikes. Many prefer to stroll. It's a small island…and there's nothing to hurry to. The leisurely lifestyle has drawn an increasing number of travelers, and even long-term foreign residents, in recent years.
It's my first time in the country. And I got here at just the right time. It's the opening of lobster season, which runs June 15 until February 15 of the next year. I think I could get used to this.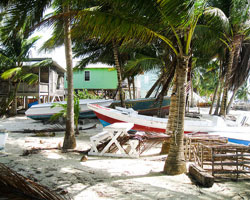 Every restaurant in town has their signboard out with their lobster special scrawled in chalk. Lobster omelets, lobster with rosemary and garlic, lobster kebabs, and even curry lobster…I'm spoiled for choice. But grilled lobster slathered in butter is my favorite, picked apart with a plastic fork, seated next to locals and fellow travelers on a picnic table. At $10 it's not dirt cheap, but it's substantially less than I'd pay in the U.S. and well worth it for true off-the-boat lobster. Even the "sit-down" restaurants don't charge much more. I think this lobster lunch might be followed up with a lobster dinner.
The whole town is buzzing for the lobster season. When I was in Ambergris Caye, the larger island to the north, a few days previously, the opening of the season was the hot topic among expats and locals. It's a big deal, with lobster festivals taking place across the country.
On the "back," or west side of the island, local fisherman are hauling in the day's catch while their friends are cleaning up the lobster for sale to the restaurants in town. Others are building new lobster traps for the weeks ahead.
But the pace of life remains slow…everything, including this, one of the most important days of the year, runs at a leisurely place. As Eric tells me when I rush a bit through my meal to give my seat to a new customer, "Go slow." That's the motto here.
Free Belize Report:
Learn more about Belize and other countries in our daily postcard e-letter.
Simply enter your email address below and we'll send you a FREE report – Belize: The Top English-Speaking Retirement Haven in the Caribbean.
This special guide covers real estate, retirement and more in Belize and is yours free when you sign up for our postcards below.
Get Your Free Report Here