Daily life on the beach…a breathtaking view of the bay…and live music at sunset…that's the routine for Tari and Peter Bowman.
Little did they know in 1981 when they took a trip to Puerto Vallarta that their lives would be changed forever.
Their accommodation was double booked, so the Bowman's showed up at Daiquiri Dick's—a beach bar and restaurant located smack dab on Los Muertos beach—and the owners immediately helped them find accommodation.
"We returned several times to Daiquiri Dick's to thank the owners and one thing led to another," Tari says. "They wanted to leave—we were looking for a change."
The Bowmans decided to buy Daiquiri Dick's. They had a store, restaurant, and home to sell in California, so they agreed on a purchase price close to $300,000 which they paid off when they sold their U.S. home and business. Peter moved immediately and Tari arrived in the fall of 1982, with their two young children, and "just a smattering of Spanish".
Tari admits it was challenging. They had employees who were reluctant to adapt to new ideas, and a building that "sprang geyser-sized leaks with electricity that went out at random, inopportune times".
Why did they persevere? "I guess we do well with challenges," says Tari. "We told our family in the States we would give it five years. After five years, we told everyone that things take longer in Mexico, so we would give it another five!"
In that time, they had settled into a house they loved, plus they fell in love with the climate, geography, and warmth of the Mexican people. "We felt it was a worthwhile business opportunity and a good place to raise our kids—who, by the way, grew up bilingual and use their language skills today in their jobs in the U.S."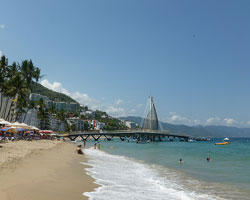 Daiquiri Dick's is both a bar and restaurant. The bar itself is small but the tables extend out onto the beach, from where customers can order their drinks and food. This service is headed by Jacinto, whom Peter and Tari describe as a "great member of staff". He has a loyal following of locals and tourists.
Once a week Peter and Tari have friends over to dine with them at Daiquiri Dick's, which is a social highlight for them. And occasionally they like to take a break from the business to go to the beach, zip-lining or whale watching with family and friends. It's all part of what makes Puerto Vallarta such a great place to live.
They have reinvented Daiquiri Dick's countless times, to stay fresh and survive the vagaries of the economy.
"For most of our years here, the business has definitely supported a very comfortable lifestyle," says Tari, "and although the downturn in the economy has been very stressful and affected income, we are starting to see signs of a turnaround and are feeling very positive about a better future.
"No matter how stressed you are here, there's always that incredible sunset at the end of the day."
And when your business overlooks one of the most beautiful bays in the world, that's easy to understand.
Free Fund Your Life Overseas Report:
Sign up for IL's Fund Your Life Overseas e-letter today and we'll also send you a FREE report about ways to earn money abroad. Simply enter your email in the box below and we'll send you this free report: Fund Your New Life Overseas With These 6 Portable Careers.
Get Your Free Report Here