Ever since I've known my husband, he has declared 72 F to be the perfect temperature. When we arrived on the Costa del Sol on Spain's southern coast, we knew we had found 72 F at its finest. The Costa del Sol averages 320 days of sunshine per year and there are plenty of long, powdery, white-sand beaches on which to enjoy that warm weather.
We had come to Southern Spain to explore what was on for offer for a long-term stay…and what we discovered was an abundance of sunshine and bargains. We decided to base ourselves in the popular coastal town of Benalmadena Costa due to its proximity to Malaga (it's just a 30-minute drive on the highway) and access to the glittering Mediterranean Sea.
With a population of 30,000 inhabitants for most of the year, we found Benalmadena to be an attractive option for us to explore the region. It's a town popular with British holiday makers and the population triples in the height of summer. Due to our arrival in early spring, we were able to book 10 days in an all-inclusive resort, across the street from the beach, for $988. We were stunned that for $98 a night, our family of five could enjoy buffet meals, kids club, and nightly entertainment all while getting our bearings in this new country.
We started our search for an apartment on foot by walking to the Benalmadena Marina each night. We couldn't refuse the offers to sit and try a perfectly cooked steak in restaurants along the boardwalk…one steak fed our entire family and cost $16 with drinks. Although the food was a bargain, we quickly discovered due to the Marina's reputation as one of the best in the world, with over 1,100 moorings, we needed to expand our search to find real estate within our budget.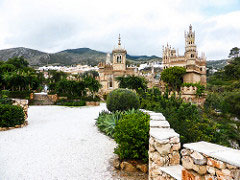 We eventually turned our gaze to the hills and fell in love with Benalmadena Pueblo, a short drive from the coast. Set among the rolling green Andalusian hills, the entire village feels like a balcony overlooking the Mediterranean. Pristine white houses with their rust-red tile roofs sit in narrow cobblestone streets and the glittering sea can be seen from almost every vantage point in town. But it wasn't just the views we found to be attractive.
A recently renovated, two-bedroom, one-bathroom apartment in the center of the village can be yours for $130,500. And if you're looking for a home with sweeping panoramic views of the Mediterranean, a two-bedroom, fully furnished penthouse, with a large, sea-view terrace is on the market for $142,500.
As the kids played in the plaza surrounding the 17th-century Church of Santo Domingo, I gazed over the walled gardens mesmerized by the luminous pink bougainvillea cascading to the edge of the sea. I felt like I could stay forever enticed by the Spanish sun…which was only the beginning of the warmth we came to know along the Costa del Sol.
Get Your Free Spain Report Here
Learn more about Spain and other countries in our free daily postcard e-letter. Simply enter your email address below and we'll also send you a FREE REPORT — Live the Good Life in Sunny, Affordable Spain.
This special guide covers real estate, retirement and more in Spain and is yours free when you sign up for our IL postcards below.

Get Your Free Report Here