Cheryl Stinson always dreamt of learning to surf. When a Google search result came up for Witch's Rock Surf Camp in Tamarindo, Costa Rica, not only did her dream come true, it also turned out to be the start of a new sunny chapter for the Ottawa native.
Arriving for her surf camp in December 2015, Cheryl knew nothing about Costa Rica…she thought it would be just another tropical destination like others she'd visited before. "But boy was I surprised," she admits.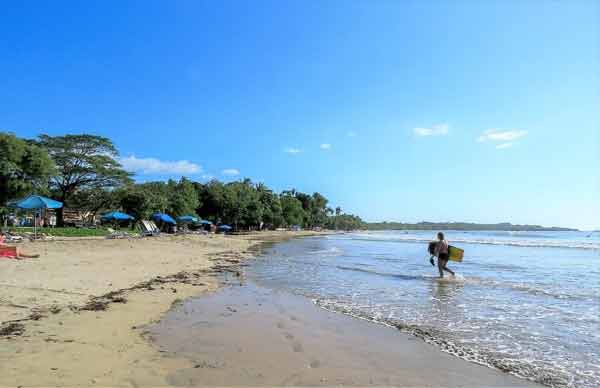 "Seeing a bunch of surfers walking with their dogs off-leash along the beach was a great first impression for me," says dog-lover Cheryl.
"After that, it didn't take long to fall in love with surfing, the climate, and the Pura Vida culture. Two weeks after my return to Canada, I booked a flight and, with my dog Umbra, we made the journey to Tamarindo together. Since then I've split my time between Tamarindo and my home in Canada."
With a job that allows her to work remotely and also have a bit of control over her schedule, Cheryl's "day-in-the-life" in Tamarindo is pretty much a beach-lover's dream. "I get up early and either hit the waves or take a long walk with my dog along the beach. Afterwards, I'll often stop by La Princesa Cafe for some coffee and a chia oat jar, or I might grab a smoothie from the food court in the center of town," she explains. "Then it's back home for a day of work.
"But I always try to wrap up my day early enough to catch sunset which is around 5:30 p.m. I go down to the beach with my dog and meet up with other human and canine friends. We mix up locations a lot, but our favorites for sunset are Nogui's, El Chiringuito, and El Vaquero."
After a couple of years enjoying all Tamarindo had to offer, Cheryl decided to make a more permanent stake in the laidback surf town. "Up to this point I have rented and as a renter I honestly found the cost of living between here and Canada very similar," she says. "Knowing that I wanted this place to be a part of my life in the long run—I decided to buy a condo—and that's where I have really seen the savings. I bought a condo for about half the price I would have paid for something similar in Ottawa."
For $92,000, Cheryl purchased a two-bedroom, two-and-a-half-bathroom condo just a few minutes' walk from the beach, and the center of town, in a gated community with 24-hour security. "You can't beat the location and I really liked that there is a pool as well." The condo needed a bit of work and came unfurnished, but for the low purchase price, those extras were affordable.
"In terms of cost of living you can also save some money by making your own food and shopping at the Tamarindo feria (food market) as much as possible—I find much better deals there than at the grocery store and I enjoy meeting the local vendors," she says.
"I've lived in a lot of places…and Tamarindo is my favorite…in large part for it's climate. It's hot (which I like) and the water is always warm. There's often a nice breeze blowing, and the sunsets are consistently stellar. It can be very wet in rainy season and the roads become pretty bad in some places, but you really don't even need a car if you live in town. Even in rainy season there is still plenty of sunshine and good surfing every day. Or you can always be like me, skip rainy season and enjoy the summer in Canada."
Get Your Free Your Overseas Dream Home Report Now

Sign up for the FREE Your Overseas Dream Home e-letter and get a valuable report (free for a limited time) on the The Global Real Estate Boom of 2021: 15 Places Where You Can Profit.
Related Articles
Best Places to Live in Costa Rica: Five Top Expat Havens