"Our days are so different from how they were in the States," says Jennings Wright. "Everything is more relaxing here and work often just feels like fun."
After many months of travel, searching for a new and exciting place to live, Jennings (51) and her husband Chuck (56) chose Nicaragua for its low cost-of-living, natural beauty, and welcoming people.
"We were in search of a new adventure, since we had recently become empty nesters," says Jennings. "And the low cost of living was certainly attractive. It's probably half of what it was for us in the States."
They settled in San Juan del Sur—a funky, colorful beach town overlooking a protected bay with deep-purple sunsets, tasty cocktails, live music of all types, international restaurants, and a bunch of eclectic expats.
"We spent several weeks driving around the country," says Jennings. "From Leon and Las Peñitas, north into Asseradores and the campo, to the mountains and Matagalpa, and Granada. While we loved the people in Las Peñitas and the scenery in Asseradores, we felt that the business potential in San Juan del Sur was several years ahead of Las Penitas, and probably a decade ahead of the northern beaches.
"When we arrived in San Juan del Sur, we found the hotel that we wanted to buy the second day," says Jennings. "Investing in a project in a southern coastal city in the U.S. would have cost at least four or five times as much. Not to mention that the rules, regulations, and bureaucracy in the States will strangle you.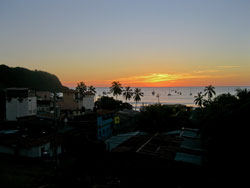 "The hotel, El Pacifico, was open for business when we bought it, so we hit the ground running. We determined that we could make immediate improvements without investing too much.
"I was surprised when my fresh-baked breakfast items became a hit and we morphed it into a new venture, The Accidental Bakery. Baking is something I love doing anyway and doing it in my home is such a perk. Now I even sell some of my baked goods to local coffee shops. There are just so many opportunities here and often you discover them while you are doing something else."
In their spare time, Jennings and Chuck spend time at the beach and are trying to learn to surf. "We watch the sunset in town, swim, eat out, meet friends and make new ones," says Jennings. "We have also been able to visit some other towns and beaches like Las Peñitas, Leon, Playa Asseradores, Matagalpa, Ometepe, Popoyo, Playa Gigante, and of course Managua and Rivas for shopping. We generally head straight for the beaches—we're ocean people and when we can get away we are looking for down time rather than adventure.
"We like places with a view, good food, and lots of hammocks! Eventually, we'll be looking for more adventurous getaways. There are so many places to explore in Nicaragua and we love having the time to do that.
"We wake up with the sun and I take care of breakfast until 10 a.m. The rest of the day I either run errands, see what's up on the computer or just read and relax.
"My husband starts his day making sure the pool is ready, preps for the breakfast crowd, and then spends the afternoons working a bit, writing, or taking his boogie board out for a ride.
"We've made a good life here. We chose Nicaragua for its close proximity to the States, a low cost of living, physical beauty and ocean, and a big enough expat community to make friends and get advice. We love our life here and we're very happy."
Get Your Free Nicaragua Report Here:
Learn more about Nicaragua and other countries in our daily postcard e-letter. Simply enter your email address below and we'll send you a FREE REPORT – Start a New Life on the Beach in Nicaragua.
This special guide covers real estate, retirement and more in Nicaragua and is yours free when you sign up for our IL postcards below.
Get Your Free Report Here