Arlene Gibbs was working on a movie in production when she realized she needed a life change. When the production company she worked for closed shortly afterwards she decided it was time to leave Hollywood.
"Everything in L.A. was about 'The Business'," she said. "Everyone I interacted with at work…at the cafes…even at the gym…was involved in the movie industry."
Today, she lives in Rome, Italy with a fulfilling new business, and a lifestyle she simply didn't have back home.
She can grab an unscheduled coffee with a friend and finds that there is always someone ready and able to meet for a drink or dinner. "My Italian friends will often decide that day to have a dinner party or go for aperitivi. If you can come great, if not they will see you soon. Nobody is scheduling dinners three weeks out. That's bananas."
Arlene first visited the Italian capital in 2005 and says she felt at home immediately. "I thought maybe I'd move there for retirement," she says. The move, however, came sooner than she expected.
To support herself, she returned to something she loved long ago but didn't pursue as a career—interior design.
Arlene had a brief stint in design right after college, at the Bloomingdale's Executive Buyers Trainee Program working in the Home Furnishings division. She says friends constantly asked her advice about decorating and furnishings, so the passion for interior design wasn't new for her.
To retrain, she interned with an Italian designer who also does furniture. She was introduced by a mutual friend and Arlene initially met with the designer for advice on going back to school for design. She was then offered an internship and worked in the designer's showroom.
Then she attended an intense workshop with Kathryn M. Ireland, a famous British textile and interior designer. And she went along to the Salone di Mobili, the definitive international design expo in Milan, which provided more inspiration.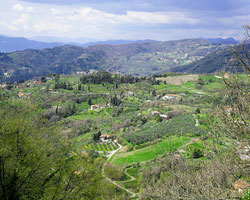 Her first client was a friend who had fired her previous decorator and needed to finish her apartment re-do. From that first job, Arlene started to build her credibility and portfolio, quickly landing a job collaborating with a noted architect, Domenico Minchilli, on a villa in Tuscany.
"Once you have a portfolio, people can see your work. Most designers find new clients by referral, even the ones who are well-established. It's a collaboration. It's important that the client and the designer are in sync."
Arlene spends a lot of time in Tuscany, Umbria, and Rome, working with upholsterers and blacksmiths, visiting craftsmen, and sourcing fabrics. "The craftsmanship is so incredible here," she says. "Custom furnishings that will last a lifetime are really appreciated and available. I love discovering these artists' workshops and working with them. There is an artistry and history behind each object."
"Creatively, it is inspiring, but personally it has been an amazing change. I'm more integrated now. I love what I do and I finally got a life!"
Free Report:
Sign up for IL's Fund Your Life Overseas e-letter today and we'll also send you a FREE report about ways to earn money abroad. Simply enter your email in the box below and we'll send you this free report: Fund Your New Life Overseas With These 6 Portable Careers.
Get Your Free Report Here