Each morning, from the wraparound porch of her tropical beachside home Bonnie Birker watches the waves caress the soft sand as she enjoys her cup of freshly brewed coffee. But this isn't the retirement she had planned for herself…
Bonnie originally decided to retire to her father's farmhouse in Iowa. After all, it's where she grew up, and after traveling the world she was ready to settle down near family. But the reality didn't live up to expectations.
"After three years," Bonnie explained, "I discovered that Iowa had changed from the memories of my youth. It was much more conservative…and colder."
Bonnie is no stranger to travel and living overseas. She was a member of the Peace Corps and spent time in 22 countries as an international development consultant. In 1967, as part of her Peace Corps work, Bonnie was sent to Panama's Azuero peninsula. For two years she became part of a small community, known for its fishing and its pollera industry (the beautiful ladies' dress of Panama made of hand stitched lace and embroidery).
So when Bonnie realized that retirement in Iowa wasn't what she really wanted, her thoughts turned to the Azuero peninsula.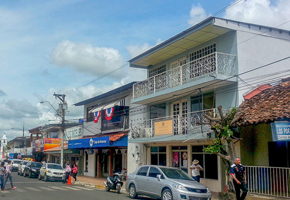 When visiting the area in 2006, she found a beachfront property on a bluff overlooking the Pacific Ocean near La Enea, where she'd done her Peace Corps work.
"I liked the property because there was space and privacy, but also enough traffic of fishermen and restaurant clients to make it interesting," Bonnie explains. It's conveniently located just 10 minutes from the town of Las Tablas, and the city of Chitre is about 30 minutes to the north. This gives Bonnie access to shopping, healthcare, restaurants, and entertainment.
Today Bonnie enjoys living in the small Panamanian community. Her property includes a two-bedroom house with an apartment, and a separate structure with three bedrooms. She lives on her Social Security income, and also rents rooms to visitors. That gives her the funds to maintain and improve the property.
Her enthusiasm for her new home has led to her putting together impromptu tours for visitors such as farm visits, musical experiences, and learning about the pollera. And she regularly opens her home for local events like the Virgen de Carmen parade, when local fishermen form a parade of boats and bring the Virgen out onto the ocean from their port on the Guarare River.
Bonnie returns to the U.S. every year to visit family, but every year those visits get shorter because home, for her, is in Panama now.
Get Your Free Panama Report Here:
Learn more about Panama and other countries in our daily postcard e-letter. Simply enter your email address below and we'll send you a FREE REPORT — Panama: First World Convenience at Third World Prices. 
This special guide covers insider advice on real estate, retirement and more in Panama. It's yours free when you sign up for our IL postcards below.
Get Your Free Report Here