After working as an electrician for over 27 years, Jeff Brewer was ready for something new that didn't involve another snowy winter in New York. In March 2014, as the piles of dirty snow still filled parking lots and street corners, Jeff decided he'd had enough.
When he heard about an opportunity to move overseas, he jumped at it.
And it led to the idyllic Caribbean island of Roatán…
"The view from my front window is now the turquoise Caribbean water," he says. "I wake up every morning shaking my head in disbelief that only one year ago, I started on this path. I made the best decision of my life coming here."
Jeff is an avid scuba diver and even became an instructor in 2003…but decided that career path wasn't for him. He dives only as a hobby.
"In July last year, a good friend told me about a small dive resort for sale in Roatán called Blue Bahia," Jeff says. "A light bulb went off. I emailed the guy selling the resort and started researching immediately.
"I visited in August to check the place out in person. The island is amazing. I've traveled all over the world, I've been diving all over the world, but Roatán just checks every box for me."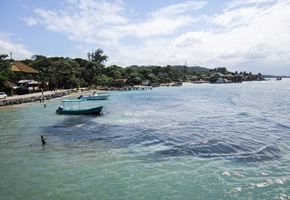 The island of Roatán checks many expats' boxes, with affordable property prices, world-class diving and snorkeling, picturesque white sandy beaches, and lush jungle-covered hillsides. Roatán is often called the "Gem of the Caribbean" because it isn't overly developed with high-rise condominium buildings blocking beautiful ocean views. The lifestyle is as laidback as the calm ocean waves lapping the shore.
"I listed my house in the U.S. while I was still in Roatán in August 2014. I just knew it was the right decision. By December, I had sold everything, packed up what was left, and moved to this island paradise to live on the beach," he says.
Blue Bahia sits on a long stretch of beautiful white sandy beach on the north shore of Roatán. Calm waters and gentle breezes make this beachfront location absolutely ideal, especially for anyone who loves to snorkel or dive.
"I bought the resort for $350,000. That includes the three-bedroom beachfront house that I live in, the dive shop building, and the management company for the condos. I live on the beach. In the Caribbean. My house is actually right on the sand!"
Jeff's excitement about his new life is palpable.
"Buying a new home in paradise is amazing, but buying a home that came with a built-in income? That was perfection. Blue Bahia is actually eight condo units that rent out as vacation rentals. I manage all eight and I also bought the dive shop building, which I rent to the manager and her staff.
"There is a restaurant on-site that is owned by another couple, so we all work together to create the ideal vacation spot. It was great coming into an established community so I could easily adapt and learn about my new home."
Jeff knows he made the right decision at the right time.
"I've traveled enough to know that Roatán was the perfect solution for me. No snow, no stress. That first winter here was amazing—all my friends back home were buried under feet of snow and I just kept my feet in the warm Caribbean sand. It doesn't get better than that."
Get Your Free Fund Your Life Overseas Report Here:
Sign up for IL's Fund Your Life Overseas e-letter today and we'll also send you a FREE report about ways to earn money abroad. Simply enter your email in the box below and we'll send you this free report: Fund Your New Life Overseas With These 6 Portable Careers.
Get Your Free Report Here