Spring is here, and in the markets plump porcini mushrooms, chestnuts, and long, elegant brown pears are giving way to figs and basil and zucchini flowers. In the streets, young women glide along in five-inch heels, leather jackets, and American jeans, chic scarves draped carelessly at their necks. Along the river Arno, newlyweds stroll hand-in-hand in the warm sunshine. And in the piazzas, both tourists and locals gather at outside tables for an espresso or foamy cappuccino and a cornetto, a sweeter variation of the French croissant.
In 2006, I retired from overseeing educational programs at the University of Texas. I was 60 years old and looking for an adventure. I rejected traditional retirement plans centered on cruises, bridge games, and gardening. I wanted something different, something challenging, something that would keep me young, not help me grow old.
I found it in Florence. I had always loved northern Italy— the food, the wine, the art, the history, the people—but I never thought I could afford to live in the capital of Tuscany.
I visited several times on long vacations, each time learning more about the city and its surroundings. I realized that, if I kept a close eye on my budget, I could try out life more permanently in this heartland of the Renaissance.
So in September 2012 I made the full-time move. I came alone and knew no one. It was hard to leave friends and family back home in Austin. But I soon found a large and lively expat community here.
There are so many opportunities to socialize that it can be exhausting. You can build a life around touring museums; seeing first-run movies (in English); dining out; opera (and/or jazz and everything in between); taking day-trips to villages to sample artisanal products such as wine, cheese, and ceramics; attending lectures by professors at Florence campuses of Syracuse University, Harvard, NYU, Stanford, and more; volunteering at various venues; enrolling in language and cooking and history classes; and simply wandering around this lovely old city, discovering a new favorite destination every day.
My lifestyle is comfortable but certainly not upscale. I live in an apartment in a lovely neighborhood in Piazza Ognissanti, in the western part of the historic center and a block from the Arno River. It's on the second floor, with an elevator, two bedrooms and two bathrooms, a small kitchen, and a large living room/dining room area. It's fully furnished, although I've replaced a few pieces with things I've bought here. I pay about $2,000 per month rent and an additional $150 in utilities. I have WiFi, air-conditioning/heating, a dishwasher, and a clothes washer. Also included in my rent is linen service for sheets and towels. I pay a maid about $25 every two weeks to do a thorough cleaning.
I have friends who pay half what I pay in rent—even less—but they're farther outside the historic center, or have chosen smaller accommodation. Their apartments are comfortable and clean and all have their own Florentine charm, whether it's floor-to-ceiling windows that open onto a terrace, curved archways and travertine floors, or fabulous views of the city.
I don't have a car here. The historic part of the city is tiny and thoroughly walkable.
Every couple of weeks, I drag my cartello (shopping cart on wheels) to Conad's—a chain grocery store—to buy paper goods, cleaning supplies, and other staples. But for my daily meals I shop a couple of times a week at one of the big markets in town, where everything is fresh, local, and—because it's local—seasonal.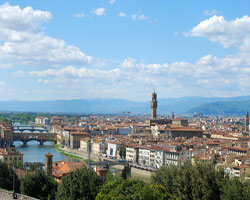 But eating out is such a pleasure that I indulge myself often. No matter where you choose to eat, it's hard to get a bad meal. In fact, one of my favorite spots for lunch is a rather nondescript bar in Via Verdi, where darling, 78-year-old Simonetta prepares, among other remarkable dishes, the best orechietti con broccoli (pasta with broccoli) I've ever had. I pay about $6 for the pasta, $2 for a bottle of water, and (sometimes) $3 for a glass of house wine.
For a less casual meal, I have some favorite trattorias where I can have pasta or a fish dish, a couple of glasses of wine, a bottle of water, and a coffee for about $35. A salad or other side dish or a dessert is an additional $7 or so.
Buses are efficient and inexpensive, and the routes are easy to figure out.
And I love the train, both for short trips to places like Lucca and the Cinque Terre and for longer ones across Europe. One of the best perks of being here is that I'm so close to other European cities. Last Christmas, my daughter and I took the overnight train to Paris in a double cabin with fold-out beds for about $350 each. We could have flown for about $250, but we wanted to experience the train. A round-trip ticket on the train to Venice is about $60, and to Rome, about $30.
Free Italy Report:
Learn more about Italy and other countries in our daily postcard e-letter.
Simply enter your email address below and we'll send you a FREE report – Italy: Europe's Most Seductive Country.
This special guide covers real estate, retirement and more in Italy and is yours free when you sign up for our postcards below.
Get Your Free Report Here