Justin and Sarah Fahey did everything the way you are "supposed to" in the U.S. They focused on their educations, both finally getting Master's degrees at Boston universities. They got married. Justin landed a sales job for a large research company and Sarah worked as a counselor in a private Massachusetts school.
The road to the American Dream stretched out before them. Everything was perfect. Or was it?
"Actually, we were faced with the reality of desk jobs, long commutes, a mortgage, and cold, icy winters," says Sarah.
Justin was ready to go; Sarah needed a bit more convincing. But a single exploratory trip to the gorgeous beach paradise of San Juan del Sur, Nicaragua persuaded them. They found thatched restaurants flanking the coastline, interesting businesses, and colorful characters of all kinds.
They realized that it was much cheaper to live in Nicaragua, and that life there would be much simpler and more enjoyable. They decided to jump out of the box for a one-year adventure.
Eight years and two kids later, they wouldn't want to live anywhere else. Justin works as a real estate agent and Sarah is director of development for the local school. With a friend, she also owns a business that rents baby gear, called Mums and Bums Nicaragua.
When they arrived, the couple was excited by the low cost of living they could enjoy in this beachside town. When it was just the two of them, they were happy in a small, ocean-view apartment in town for $450 a month.
Now with two kids—a daughter and a son, both born in Nicaragua—they splurge and pay $1,400 a month in rent for an ocean-view, five-bedroom, three-bathroom house with a huge pool and an outside entertainment area with full grill, refrigerator, sink, and party area. The price also includes WiFi, water, a gardener, and a state-of-the-art security system.
"We pay a nanny/housekeeper $2,700 a year—a friend back in the States pays nearly $50,000 a year for in-home childcare," says Sarah.
As for eating, Sarah says that if you can leave comfort foods like Cheerios and Skippy peanut butter behind and buy locally grown produce, you also lower your costs substantially. "When you buy produce in season," Sarah says, "you can get a dozen bananas, a watermelon, a dozen oranges, peppers, cucumbers, pitaya, and passion fruit for under $5.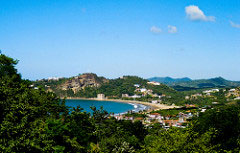 "We love life here. We wake up to the sound of parrots chattering overhead or monkeys howling in the distance. We have much more time to be with our children. Justin and I set our own work hours and have the opportunity to explore our entrepreneurial sides. Justin even has time to head up a local rugby team (a lifelong passion of his) that combines expats and Nicaraguan players."
Their health has also improved significantly since moving to Nicaragua. "We eat healthier, exercise more, and generally take better care of ourselves. It's because we have more time. We don't need to spend hours commuting to jobs where we sit at desks eight hours a day. We move more. We connect more. We live more."
Whether getting bruises treated or having a cast put on a broken arm, their experiences at the local healthcare clinics have always been positive. "Our children were born in the Hospital Metropolitano in Managua, and the prenatal care, labor and delivery, and postnatal care was equal to or better than what my friends experienced back in the U.S.," Sarah says.
Sarah has advice for anyone contemplating a move to Nicaragua: "Embrace the cultural differences; don't fight them. Come with appropriate expectations. Don't compare how things operate here to how they worked back home. Leave most of your 'stuff' behind. You don't need much here. And enjoy…you will be surprised at the fantastic and better life you can have when you move to Nicaragua."
Get Your Free Nicaragua Report Here:
Learn more about Nicaragua and other countries in our daily postcard e-letter. Simply enter your email address below and we'll send you a FREE REPORT –  Start a New Life on the Beach in Nicaragua.
This special guide covers real estate, retirement and more in Nicaragua and is yours free when you sign up for our IL postcards below.
Get Your Free Report Here