From our new home town of Pedasi every beach seems to offer its own playground. From a launching point for Isla Iguana Wildlife Refuge, to waves fit for championship surfers and beginners alike.
Located on the Azuero peninsula on Panama's Pacific coast, Pedasi is an ocean-lovers dream. Driving out of town towards the popular beach of Playa Venao offers picturesque views of rolling hills on one side and stunning Pacific views on the other.
In 2014, tired of the harsh winters back home, we decided to sell everything to move to the tropical climate of Panama. It wasn't just the weather that made us move. Both my wife Shelly and I worked your standard office jobs, complete with cubicles, water coolers, and the smell of someone's popcorn burning in the staff microwave.
We didn't hate our jobs, we just felt we didn't need to spend eight hours a day at work. And neither of us was interested in climbing the corporate ladder. Our preference to spend money on experiences rather than possessions drove us to look for something different.
Moving to Pedasi has allowed us to find and reconnect with our passions. Shelly has set up a pet-sitting business, and she also volunteers with a local animal advocacy group. And I've been able to focus on my writing, something I was never able to do while working my past 9-to-5 jobs.
Our routine is much different, too…in that we don't have a routine. We often joke with other expats about not knowing what day of the week it is.
We spend a lot less here. Rent for our two-bedroom, one-bathroom Panamanian home in town is $450 a month. You can eat lunch for $3, and dinner options can range from $7 to $20, depending on what you're looking for. A beer runs us anywhere from $1 to $2 per bottle dining out…and even cheaper if you buy them at the corner store. One of the price differences we immediately noticed was for internet and cell phones.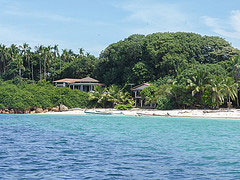 We purchase two $15 cards that give us 30 days of data (unlimited 3G). We also use a USB internet stick for another $15 for 30 days. With a total of $45 a month in Panama compared to that price for just one cell phone in Canada, we come out as big winners there—and we didn't have to sign up for a contract.
The healthcare here is affordable too. A trip to the doctor's office recently cost me $30, not including prescriptions, and that included my follow up visit. As a Canadian, we often overlook that our "free healthcare" isn't exactly free when you factor in the high taxes we pay.
Our typical days starts with a morning coffee while watching baby chickens dance across the street. Most days we take time to practice our Spanish with a conversation with our neighbor, which often results in a few laughs from our mistakes. A few times a week we ride our bikes down to the ocean for a nice beach walk…in fact, sometimes we ride from one beach to the next. And most nights we just sit out back at dusk and listen to the birds chirping away at each other.
We've never had such an amazing social circle. The expats in Pedasi are a laidback bunch, always willing to lend a helping hand. There are always offers from people to do something every day…be it a day surfing at Playa Venao, a shopping trip to Chitre, or chilling at the local expat hangout to listen to the house band play some cover tunes. October welcomes festival season, starting with the Desfile de Carretas (Parade of Carts). And November is chock full of festivities, with two Independence days, Flag Day, Day of the Dead…so there's plenty of opportunity to celebrate with the locals and indulge in their culture.
There's never a lack of things for us to do. But what we truly love most is that we do everything at our own pace.
Get Your Free Panama Report Here:
Learn more about Panama and other countries in our daily postcard e-letter. Simply enter your email address below and we'll send you a FREE REPORT — Panama: First World Convenience at Third World Prices. 
This special guide covers insider advice on real estate, retirement and more in Panama. It's yours free when you sign up for our IL postcards below.
Get Your Free Report Here