I love shopping with my daughter, Allison. I always come away with something terrific, at half the price I'd pay at a department store. So, when she graduated from university, I invited her to join me for a week in Paris.
Since I discovered how much you can earn from travel photographs, I've turned it from a hobby to an income, so this trip was also an opportunity to take photos.
I sold my first framed travel photo for $600 and I continually upload my photos to stock agencies where they sell over and over again.
On my day out in Paris, I carried my camera, both to record my time with my daughter and to capture shots to sell as stock. We wandered through the Luxembourg Gardens, the second-largest public park in Paris. The gardens belong to the French Senate, which is housed on the grounds, in the Luxembourg Palace.
Above the trees, we could see the Eiffel tower in the distance. Couples lingered over small cups of coffee, enjoying the view. We walked past the octagonal pond in the center, where children were sailing model boats. As we exited the gardens, we came upon an elderly woman quietly doing Tai Chi, in the shade of the old trees.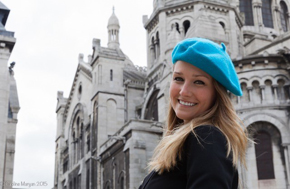 All the while, I was busy taking photos to remember our time together.
After lunch in a cafe, we headed back to the hotel, passing the Pantheon, a magnificent building that serves as a mausoleum. Many of France's most distinguished citizens are buried there. We walked past the campus of the Sorbonne, where students were returning to class…with me still happily taking photos.
The next day, it was time to visit Montemartre and I photographed Allison, wearing a jaunty French beret, with Sacré-Coeur Basilica in the background.
So far, I've earned $50 for the photo of Allison in the beret. With a few shots of my daughter, I've earned more than $250 with a stock agency. It made me realize that people shots sell as well as travel photography. Prior to that, I'd really focused on shooting iconic buildings or temples. So, now, I try to include people whenever I can.
On our last day, it was time to do a little shopping. Allison led me to a trendy French shop aimed at teens, where I bought a gorgeous, turquoise silk scarf for less than $20…and took a photo of the rack of scarves.
When we returned home, I uploaded a few of my favorite photos of our trip to iStock, a stock website. So far I've earned $400 from the photos…and they're still selling…
Featured Image ©sborisov
Get Your Free Fund Your Life Overseas Report Here:
Sign up for IL's Fund Your Life Overseas e-letter today and we'll also send you a FREE report about ways to earn money abroad. Simply enter your email in the box below and we'll send you this free report: Fund Your New Life Overseas With These 6 Portable Careers.
Get Your Free Report Here