I remember a time in my early 20s when I was struggling to get by and everything I owned fit into a few Hefty bags and a cardboard box or two. At the time, I took it as clear evidence of my failure to make anything of myself up to that point. Flash forward a few decades, and I'm living that way quite purposefully.
Like a lot of folks, my husband and I found ourselves drowning in bills, fighting a never-ending, uphill battle to rebuild the security that seemed to evaporate when the Great Recession struck.
Certain there had to be a better way, we scoured the Internet for ideas and inspiration. Somewhere along the way we stumbled across the concept of ditching the rat race altogether and retiring offshore, where even our modest means could provide a lifestyle we could only dream about in the U.S.
A little over two years ago, my husband and I turned that quest to rescue our retirement into a reality and relocated to the Pacific coast of Ecuador. A big part of the process was shedding all the excess stuff we'd accumulated in pursuit of the "American Middle Class" ideal, in favor of the new experiences we'd be free to have once out from under it all. Swapping the hamster wheel for a simpler, less object-oriented way of life turned out to be the trade of a lifetime.
Now, I'm not claiming I breezed through the process of shedding all the things I loved and surrounded myself with over the course of my lifetime: The perfect teakwood rocking chair discovered in an antique shop in Anchorage, Alaska…all the artwork and funky found objects lovingly selected to help make our house a home…the gadgets and time-saving devices and must-have items Madison Avenue says we can't live without. Like anyone would, I had a few pangs as we sold, donated, gave away, or trashed our household down to six suitcases and a dog carrier. Yet, with our goal clearly in mind, I kept moving forward, one estate sale or donation pick-up at a time.
What I can tell you looking back is how freeing it has been. We don't waste one brain cell worrying about keeping up with what we have or mindlessly gathering more.
Recently we entered the next chapter of our overseas adventure—life on Mexico's Yucatan Peninsula. So once again I found myself facing six suitcases and a dog carrier, and the task of packing up our material possessions. Again, we took with us only the items that we really needed and those belongings that bring us the most joy or hold the most significance. I've come to see the process as both a practical and a purposeful exercise, an opportunity to consciously select the elements I want in my life. If it doesn't fit the vision of the lifestyle I want, it doesn't make the cut. This second time around, I packed a whole lot fewer pairs of shoes.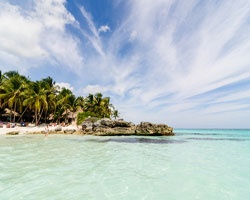 Currently, in Mexico, we rent two fully furnished condos—one in Cancun and one in Merida—complete with dishes, silverware, glasses, and cookware.
These days, when I spend some fun-money, I'd rather put it toward an experience than more stuff. I'll go out to lunch, get a massage, or take a surfing lesson. My husband and I will travel to a beautiful new site or book a night in a local resort. The pay-off is greater and the memories last much longer than the temporary high of another pair of shoes or an outfit I'll rarely wear.
We've added a few indulgences here and there, but we've escaped the endless cycle of consumerism, and are no longer bombarded with marketing messages pointing out what we "lack." The freedom and control of our time that we have gained is more satisfying than any retail purchase I've ever made.
Free Mexico Report:
Learn more about Mexico and other countries in our daily postcard e-letter. Simply enter your email address below and we'll send you a free special report – Why Millions of Americans Are Moving to Mexico.
This special guide covers real estate, retirement and more in Mexico and is yours free when you sign up for our postcards below.
Get Your Free Report Here